.
This is the first issue in a new series of silver coins called Windows of History, featuring full-color stained glass inserts. In occasion of the 100th anniversary of the Titanic, it features the glass dome overhead the first class staircase allowed the natural sunlight to cast its glow over the polished oak of the wall panelling and the elaborate balustrades.
Reverse Design:
Struck in to the reverse of this coin is an image of the majestic Titanic before, and after the sinking. In the middle you will find the window of the legendary glass dome over the lobby of the first class. The name of the series, and the name of the coin are inscribed on this side.
Obverse Design:
The obverse features the stained-glass showing the image (on the window) in reverse. On this side, together with the effigy of Queen Elizabeth II, you will find the country of issue and the face value.
Packaging:
The Windows of Histrory – 100th Anniversary of the Titanic, is struck from sterling silver and encapsulated, accompanied by a Certificate of Authenticity. It comes with a presentation case, which is doing a great job in staging this special coin.
.
    Contains  50 grams of .925 Silver.

    Coin is decorated with real stained glass

    Each coin comes in a special box with a COA.

    Strict limited mintage of only 1912 coins.

    Obverse: Effigy of Queen Elizabeth II, "Cook Islands", and the legal tender value of 10 Dollars

    Reverse: A very high quality rendition of  Titanic 100th Anniversary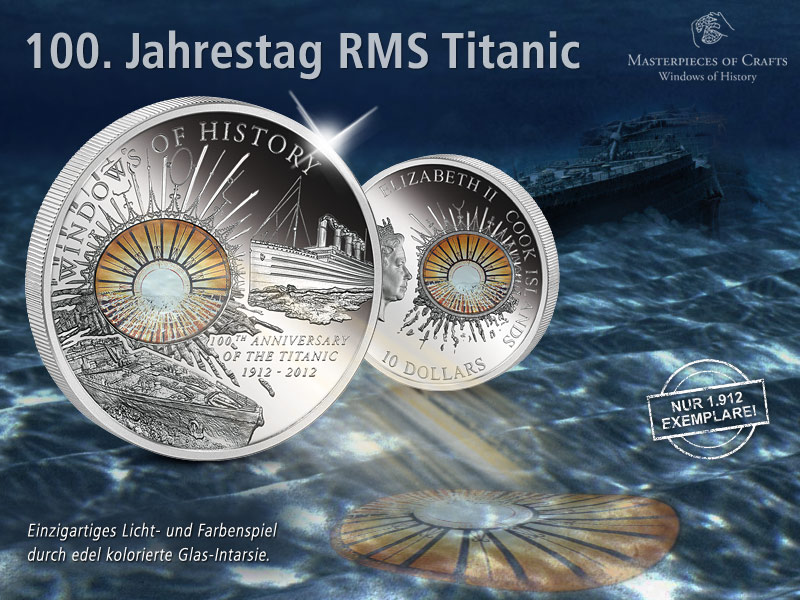 .
 In the series of Windows of Heaven you can find:
.

  2010 Windows of Heaven – Cologne

  2011 Windows of Heaven – Notre Dame de Paris


  2011 Windows of Heaven – Sevilla

  2011 Windows of Heaven – Westminster Abbey London


  2011 Windows of History – Titanic

  2012 Windows of Heaven – Bethlehem


  2012 Windows of Heaven – Cracow St Francis


  2012 Windows of Heaven – St Isaac Cathedral


  2013 Windows of Heaven – Chartres


  2013 Windows of Heaven – Lourdes


  2013 Windows of Heaven – Milan Cathedral


  2013 Windows of History – Grand Central Terminal


  2014 Windows of Heaven – Buenos Aires


  2014 Windows of Heaven – Sacre Coeur


  2014 Windows of Heaven – Washington National Cathedral – Special Editon


  2014 Windows of Heaven Giants – Cologne Cathedral – Special Edition


  2015 Windows of Heaven – Zagreb Cathedral

  2015 Windows of Heaven – Storkyrkan Church of St. Nicholas

  2015 Windows of Heaven – Jerusalem Dominus Flevit
  History:
RMS Titanic was a British passenger liner that sank in the North Atlantic Ocean in the early morning of 15 April 1912 after colliding with an iceberg during her maiden voyage from Southampton, UK, to New York City, US. The sinking resulted in the loss of more than 1,500 passengers and crew, making it one of the deadliest commercial peacetime maritime disasters in modern history. The RMS Titanic, the largest ship afloat at the time it entered service, was the second of three Olympic class ocean liners operated by the White Star Line, and was built by the Harland and Wolff shipyard in Belfast with Thomas Andrews as her naval architect. Andrews was among those lost in the sinking. On her maiden voyage, she carried 2,224 passengers and crew.
Under the command of Edward Smith, the ship's passengers included some of the wealthiest people in the world, as well as hundreds of emigrants from Great Britain and Ireland, Scandinavia and elsewhere throughout Europe seeking a new life in North America. A high-power radiotelegraph transmitter was available for sending passenger "marconigrams" and for the ship's operational use. Although Titanic had advanced safety features such as watertight compartments and remotely activated watertight doors, there were not enough lifeboats to accommodate all of those aboard due to outdated maritime safety regulations. Titanic only carried enough lifeboats for 1,178 people—slightly more than half of the number on board, and one-third her total capacity.
After leaving Southampton on 10 April 1912, Titanic called at Cherbourg in France and Queenstown (now Cobh) in Ireland before heading west to New York. On 14 April 1912, four days into the crossing and about 375 miles (600 km) south of Newfoundland, she hit an iceberg at 11:40 p.m. ship's time. The collision caused the ship's hull plates to buckle inwards along her starboard side and opened five of her sixteen watertight compartments to the sea; the ship gradually filled with water. Meanwhile, passengers and some crew members were evacuated in lifeboats, many of which were launched only partly loaded. A disproportionate number of men were left aboard because of a "women and children first" protocol followed by some of the officers loading the lifeboats. By 2:20 a.m., she broke apart and foundered, with well over one thousand people still aboard. Just under two hours after Titanic foundered, the Cunard liner RMS Carpathia arrived on the scene of the sinking, where she brought aboard an estimated 705 survivors.
.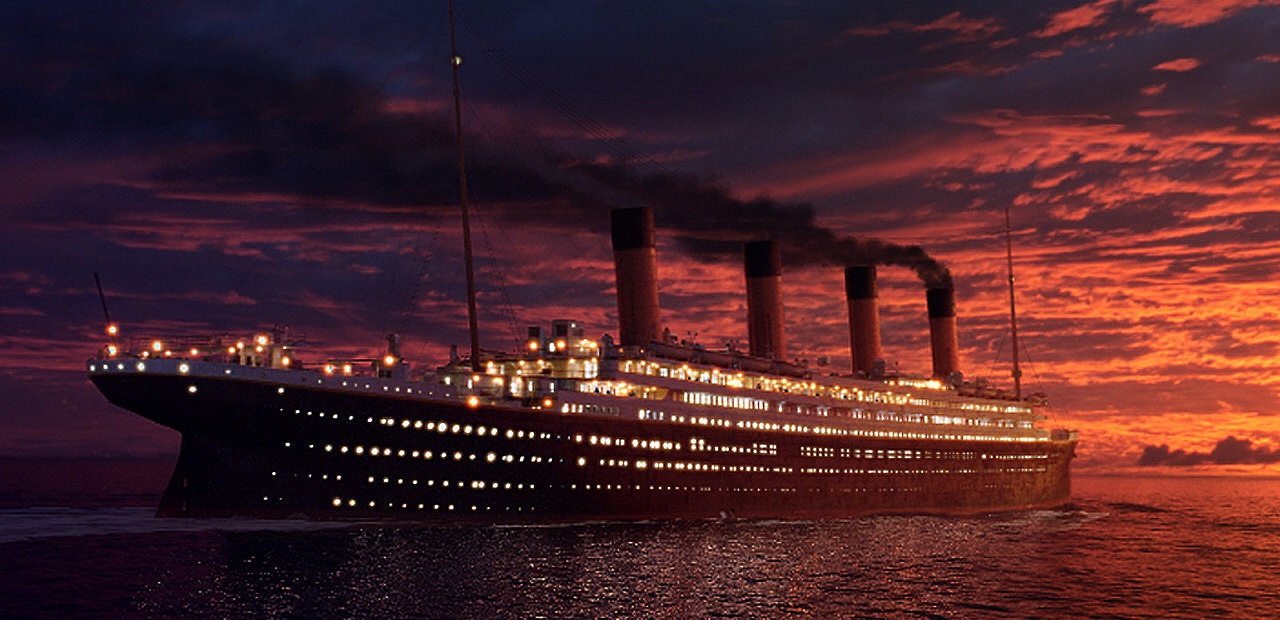 Titanic 100th Anniversary