Shining with the luster of genuine silver, this numismatic coin launched a popular series represented by Mongolia's most important animals. The limited mintage of 2,500 pieces in this case contributes to the uniqueness of these small pieces of numismatic art and makes the demand for them grow over time.
Majestic eagle in smartminting technology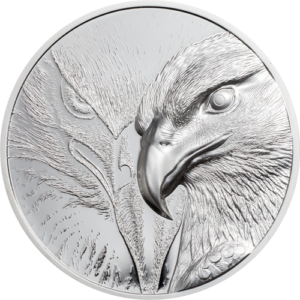 With the release of this piece came the premiere of innovative smartminting technology, which has allowed the relief to be moved higher than ever before. The first of the protagonists of the Wild Mongolia series is the eagle, whose two faces adorn the entire surface of the coin's reverse. The profile of this ruler of the skies, extremely important in Mongolian culture, presents itself proudly on the right side of the coin. The background is decorated with his image presented from the front.
When you turn the numismat over to the other side, your eyes will see the Mongolian logo enclosed in a circle, along with the denomination, number of ounces and silver sample. This information is enhanced by engraved claws grasping an arrow. By combining state-of-the-art technology with professional, careful engraving, the images of a bird of prey on the front of the coin and eagle talons on the reverse appear three-dimensional. The collector coin was made of real 99.99% silver, which makes the depicted eagle look exceptionally majestic.
Special features of the silver coin:
Distribution in a decorative box

Proof finish

Original engraving on the obverse

Modern smartminting technology used

Includes a certificate of authenticity