Thanks to the smartminting technology introduced in 2020, the master engravers at CIT create one-of-a-kind coins whose designs look realistic and spectacular. The best proof of this is this numismatic coin from the Wild Mongolia series.
Wolf's appetite for silver coinage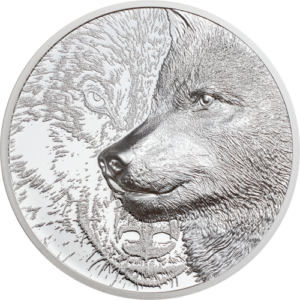 The second piece from the famous Wild Mongolia collection is associated with a wolf that is very important to Mongolian culture and tradition. The wild animal peers serenely from the silver coin in two different ways.
The wolf's head seen from the front is a kind of background for the captured animal's snout in the foreground presented from the side. The engravers did their best to reproduce the image of the Mongolian king of the forest as faithfully as possible on the limited coin released in 2,500 copies. The animal's fur, eyes and features – the workmanship of each element deserves the highest praise.
On the unique reverse of the coin there was space for basic information about its value and origin. They are framed by a circle and placed in the upper part. What makes the presented coin arouse the interest of collectors is the professionally engraved fragment of the wolf's snout, from which sharp fangs protrude.
The coin is shipped to customers in a special decorated box with a stylistically matching wolf motif. The numismatic coin is a worthy representative of the Wild Mongolia series, the other copies of which are also available in our store!
Special features of the silver coin:
Proof quality finish

Attractive engraving on two sides

Packing in a professional decorative box

Made with innovative smartminting technology

Includes certificate of authenticity