The first representative of Africa's "Big Five" collection has entered the numismatic market with a cachet worthy of the largest land mammal living on the planet. The elephant presented on the obverse was reproduced with attention to every last detail, and the proof finish only emphasized the care of the incredible engraving.
The Big Five of the African Elephant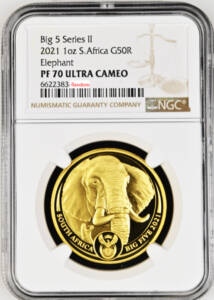 The employees of South African Mint managed to make one of the region's most distinctive inhabitants look like the real thing. In addition to the main protagonist of the obverse, it features the markings – South Africa and the Big Five 2021 – along with the South African coat of arms in the center. The coin was made from 1 ounce of the truest 999.9% gold.
If you would like to make this 2021 coin, issued in only 500 pieces, your own, take advantage of our offer. Remember that we also offer other coins from this series referring to Africa's most famous animals.
The so-called "Big Five" include the most important members of the African fauna. The face of a powerful, intelligent mammal such as the elephant is also depicted on the coin's reverse. It has been presented in such a way that when you stack several pieces side by side, a herd of elephants will appear before your eyes.
Special Features of the gold coin:
Comes with a certificate and a box

Coin hidden in a wooden box

Image of an elephant on the obverse and reverse of the coin

Quality proof

Serrated edge