That Queen Elizabeth II's Reign series is characterized by exceptional splendor is known to all numismatic enthusiasts and seasoned collectors. The seventh and thus final coin included in this royal collection combines the best features of its predecessors and enhances them with additional elements. It is the perfect culmination of a popular edition, and was released in a limited edition. Only 225 pieces of the gold coin were released to the market.
The perfect culmination of the royal series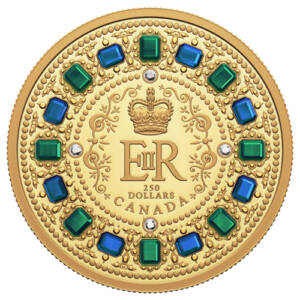 Two ounces of honest 99.99% gold blend perfectly with selective platinum plating, and the proof-quality finish adds unprecedented charm to the perfect engraving on the front. The obverse of the latest coin in the series reproduces one of the most iconic pieces of royal jewelry – the Imperial State Crown. Presented on a platinum background, it is surrounded by symmetrically arranged diamonds that are a direct reference to the four faces of the Queen engraved on the obverse. The composition is enhanced by densely spaced engraved patterns.
What proves the awesomeness of the offered piece at the first glance is the circle created from regularly spaced gemstones. It consists of 8 emeralds and an equal number of sapphires. Underneath the E II R mark located in the center, the denomination value and the inscription Canada are shown. Also take note of the previous coins in the series located on our website!
Special features of the gold coin:
Limited mintage – 225 pieces

Yellow diamond was used for the first time

Obverse design by Cecily mok

Available in a wooden box

Certificates of authenticity included