Resembling a corkscrew in shape, the Argali horns are the focal point of the third collector coin in the series referring to Mongolia's famous animals. The featured version was produced from 1 ounce of pure 99.99% silver.
Proud Mongolian Argali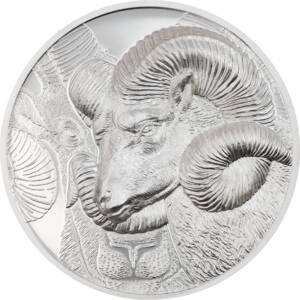 State-of-the-art, advanced techniques such as ultra-high relief and smartminting technology were used in the production, resulting in a unique numismatic piece. It is the pride of any collection, having been issued in 2,500 pieces, is in high demand and increases in value every year.
One of the main ideas during the creation of the collection was to transfer the most important animals for Mongolian culture to coins, capturing the most important features of each of them. The horns and the coat of the ram in the foreground look magnificent against its other engraved image in the background. The relief reaching all the way to the edge of the coin impresses even experienced collectors. The horns shown from a different perspective, visible on the reverse, seem to grow out of the shiny coat of arms, on which the bank's logo, denomination, country of origin and bullion purity are engraved.
Argali horns are sometimes used in traditional Chinese medicine. However, the animal is under protection and respected by the Mongolian people. This is a tribute to Mongolian rams in the form of a coin, which is also available in our store in other versions.
Special features of the silver coin:
High relief on both sides of the coin

The image of a ram on the obverse

Available with a certificate of authenticity

Modern production technology smartminting

Packaged in a box with unique artwork