The elephant, lion, leopard, rhinoceros, and buffalo are animals included in the so-called Big Five of Africa. They are depicted on coins produced by the South African Mint starting in 2019. If you are looking for the third piece in the series featuring the rhino, you can order it from our store right now!
The power of the rhino captured on a fine work of art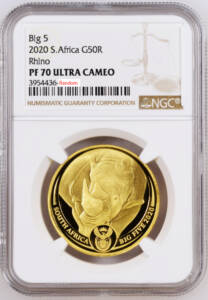 The collection is limited – as this gold coin was released in an edition limited to 500 pieces. Numismats produced at the African Mint are famous for their engravings that perfectly reproduce the typical features of wild animals. The rhinoceros featured on this small piece is no different. The animal's head, eyes, skin and distinctive double horn look like the real thing. The effect was achieved by combining the professionalism of the African Mint's engravers with state-of-the-art numismatic technology.
Just below the creature's head was the South African coat of arms placed in a circle, along with the inscriptions on either side of it – South Africa on the left and the Big Five on the right. When you turn the coin over, your eyes will see the double face of the rhinoceros and the markings placed in the center of the reverse – the denomination, the number of ounces and the sample of gold used in production. Real gold of 9999 makes the graphic shine vividly. It's impossible to pass by this uncommon collectible coin indifferently!
Special features of the gold coin:
Serrated edge

A rare and valuable piece

Face value of 50 rand

Produced in a limited edition

Coin without box and without certificate