This exclusive Silver Proof coin represents one of the most venomous land snakes in the world in full-minting.  As a master of camouflage, the Death Adder hides in leaves and litter. It can be found also in forests and grasslands lying patiently for its potential pray and delivering its venom in a rapid strike which never misses.
The coin includes an image of this deadly reptile brought to life by full-color minting on the reverse. The obverse shows the portrait of Queen Elizabeth II and affirms the official legal status of the coin.
This high proof silver coin is the 2016 release of the Deadly & Dangerous Series representing the images of the most dangerous animals of the world released by the Perth Mint. It is made of 99.9% pure silver. Its diameter is 40.60mm.
With its dangerously low mintage of only 5,000, the latest release in the Deadly & Dangerous Series is sure to be sold out at incredible speed as it was the fate of its predecessors. We strongly recommend you to secure your coins now before they are gone!
Special features:

  Contains 1 oz / 31,1 grams of .999 fine Silver.

  Struck by Australia's precious metal specialists – the Perth Mint – as official Tuvalu legal tender

  Coin comes in a special high-gloss timber case with a numbered COA.

  Strict limited mintage of only 5000 coins – as with EVERY sold-out Deadly & Dangerous

  Obverse: Effigy of Queen Elizabeth II, "Tuvalu", and the legal tender value of 1 Dollars.

  Reverse: Distinguished by a frightening full-colour appreciation of the Australia's Death Adder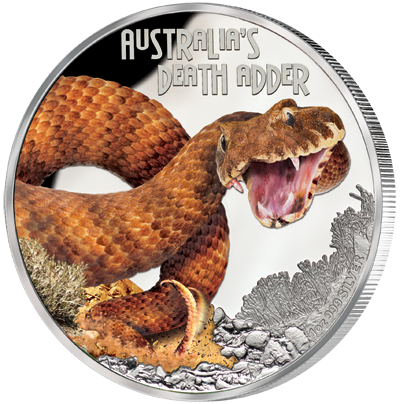 In the series of Deadly & Dangerous you can find:

  2006 Deadly & Dangerous – Red-back Spider

  2007 Deadly & Dangerous – Great White Shark

  2008 Deadly & Dangerous – Blue-ringed Octopus

  2009 Deadly & Dangerous – Saltwater Crocodile

  2010 Deadly & Dangerous – Eastern Brown Snake

  2011 Deadly & Dangerous – Box Jellyfish

  2012 Deadly & Dangerous – Funnel-web Spider

  2013 Deadly & Dangerous – Yellow Bellied Sea Snake

  2014 Deadly & Dangerous – Spider-Hunting Scorpion

  2015 Deadly & Dangerous – Australia's Bull Ant

  2016 Deadly & Dangerous – Australia's Death Adder

  2017 Deadly & Dangerous – Australia's Bull Shark