The sapphire tiara commissioned for Queen Elizabeth II in 1963 is a timeless symbol. It was made at Her Majesty's request and was intended to complement a wedding gift from King George VI. Take advantage of the attractive Coins from World offer today and expand your collection with this unique piece!
Royal sapphires encased in numismatics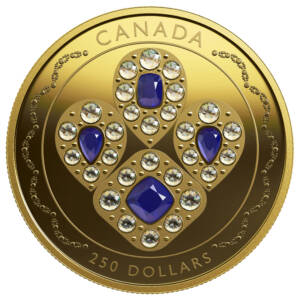 Sapphires were an integral part of the Queen's life. The design of this amazing coin was inspired by one of the most famous pieces of jewelry belonging to Elizabeth II, namely – a gold tiara. Everyone associates this one-of-a-kind beautifully decorated headdress. As with this piece of royal jewelry, the coin contains twenty-eight diamonds that sparkle like the starry night sky. They are surrounded by four of the truest indigo-colored sapphires, which in combination makes as many as thirty-two stones!
Being a kind of homage to royal headgear, the coin is the third in the Tiara series. It reproduces the basic design element of this piece of jewelry often referred to as the Victorian Sapphire Tiara. Both sides of the numismatic coin feature an intricately engraved flower.
Special features of the coin:
High historical value

Weight: 60.08 g

Made of 99.99% pure gold

Only 175 copies released to the market

The Royal Canadian Mint