This is an exquisite coin with the image of the white-tailed deer. The animal is common across much of the southern Canada, but still seeing one is a treat for nature lovers. Now the symbol is available for viewing all year round!
Design:
The coin designed by Desmond McCaffrey features an image of two mature male white-tailed deer squaring off in the autumn rut. It shows the grace and power of these two fighting animals at the height of their strength. The image renders in fine details the males locking their large antler racks and balancing on their front legs in a powerful push. Their muzzles are turned towards the viewer. They fight in an open field of sparse, dying grasses. Behind them there is a dense and leafless autumnal forest.
The shading and rippling neck and back muscles are rendered in dimensional details with the use of advanced engraving techniques.
Packaging:
The coin is presented in a maroon clamshell with a beauty box branded with the Royal
Canadian Mint logo.
.
.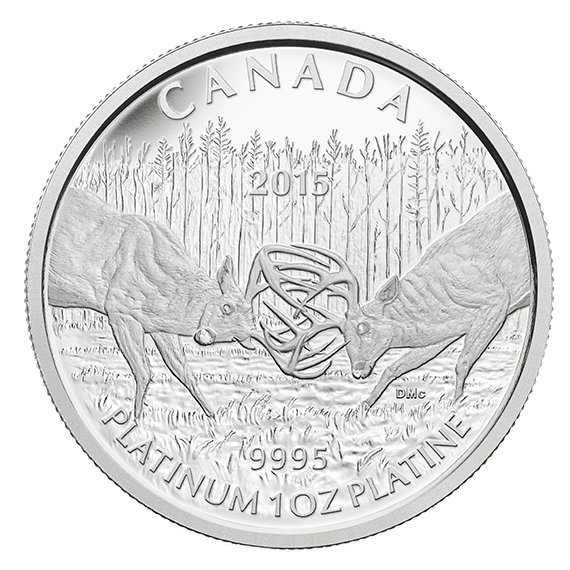 …
    Royal Canadian Mint has issued a full 31,1 grams 99.95% pure platinum coin


    Diameter 30 mm and beautifully designed coin is made of 99.95% pure platinum


    Reverse design to highlight the celebrated beauty of the white-tailed deer

    Very low mintage of only 200 and highly desirable subject matter mean that this coin is sure to be sought after by collectors.


    Coin comes in a beautiful box with a numbered COA


    Strict limited mintage of only 200 coins worldwide


    Obverse: Effigy of Queen Elizabeth II, "D. G. REGINA" and the legal tender value of 300$

    Finely detailed engraving captures the breathtaking beauty of the white-tailed deer