The coin portraits the Australian wedge-tailed eagle which is the largest bird on this continent and one of the biggest birds in the world. It has a wingspan of up to 2.7 meters and displays a long, wedge-shaped tails and feathered legs. The eagle can be found in from sea level areas to alpine regions.

The reverse of the coins shows the image of the wedge-tailed eagle perched on the tree branch. Above the eagle there is the inscription AUSTRALIAN WEDGE-TAILED EAGLE, the 2016 year-date and The Perth Mint's 'P' mintmark. The image has been designed by The Perth Mint commissioned American sculptor and engraver, John M. Mercanti, who is the 12th chief engraver of the U.S. Mint.
The obverse of the piece includes the effigy of Her Majesty Queen Elizabeth II by Ian Rank-Broadley and the monetary denomination of 100 dollars.
This coin is made of 99.99 pure gold (proof quality). It has been issued by the Perth Mint to commemorate one of the most beautiful animals of Australia – the wedge-tailed eagle. The set of only 1000 coins has been issued as legal tender under the Australian Currency Act 1965.
Each coin is housed in a wooden display case with a themed, customized shipper and is accompanied by a numbered Certificate of Authenticity.  
Limited mintage of 1000 coins worldwide!
Special features: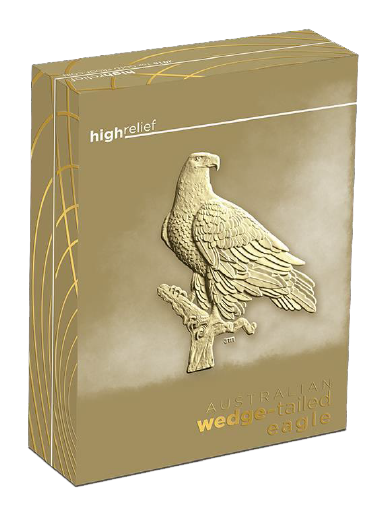 The gold coin's reverse depicts an Australian Wedge-Tailed Eagle

  The one-ounce gold Eagle has a legal tender value of $100


  Coin contains 1 oz / 31.1 grams of 99.99% pure gold in proof quality


  Stunning high relief design. The coin's reverse was designed by American engraver and sculptor, John M. Mercanti


  The coin's obverse depicts the effigy of Her Majesty Queen Elizabeth II


  Limited mintage of only 1.000 pieces worldwide


  This coin is housed in a prestigious, beautifully illustrated wooden display case. A numbered Certificate of Authenticity is included.