Mintage limited to 7,500 coins!
Meticulously struck from 99.9% pure Silver in High Relief Proof quality, this beautiful Silver coin features a traditional Chinese dragon, a "pearl of wisdom" and the Chinese character for "dragon" gracing the reverse. The Ian Rank-Broadley likeness of Queen Elizabeth Ii and the $1 (AUD) denomination are shown on the obverse.
This impressive coin is produced in high relief, meaning the design is raised much higher from the coin's surface than on normal strike coins. This treatment along with the coin's Proof finish offers unparalleled detail and beauty, making this Silver treasure a must-have. This Silver Year of the Dragon coin comes in the original box with the certificate of authenticity from the Perth Mint.
Proof Quality 99.9% Pure Silver
The coin is struck by The Perth Mint from 99.9% pure silver in proof quality.
Chinese Dragon Reverse in Spectacular High Relief
The coin's high relief reverse and obverse are minted on concave surfaces to ensure the optimum flow of metal is achieved by the strike of the die.
The reverse of the coin depicts a representation of a dragon with a symbolic pearl.  The Chinese character for 'dragon' and the inscription YEAR OF THE DRAGON also appear in the design with The Perth Mint's traditional 'P' mintmark.
Australian Legal Tender
Issued as legal tender under the Australian Currency Act 1965, the coin features the Ian Rank-Broadley effigy of Her Majesty Queen Elizabeth II on its obverse.
Extremely Limited Mintage
No more than 7,500 of these coins will be released.
Numbered Certificate of Authenticity
The coin is accompanied by a numbered Certificate of Authenticity.
Stylish Presentation
The coin is housed in a stylish black and red display case, with a striking illustrated shipper.
Great Gift Idea
As well as appealing to silver proof coin collectors, this outstanding release also makes a great gift for people born in any year ruled by the Chinese lunar dragon.
.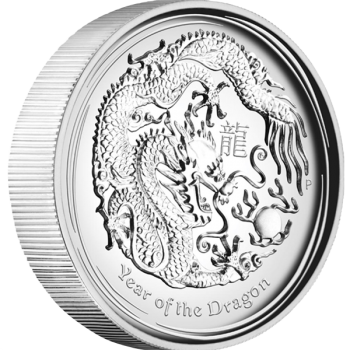 …
.
…
    Perth Mint has issued amazing series Treasures of Australia in a full 31,1 grams 99.99% pure silver coin


    Diameter 40.6 mm and beautifully designed coin is made of 99.99% pure silver Proof coin


    Reverse design portrays an abstract interpretation of Australia's stark and beautiful landscape. The design includes one the inscriptions "TREASURES OF AUSTRALIA" and Contains with pearls and mother of pearl seen from two sides

    Obverse: Effigy of Queen Elizabeth II, Country Australia, Weight 1 oz. silver 999, date of issue 2011 and the legal tender value of 1$ Australian Dollars


    Mintage is 7,500 and is very popular series from Perth Mint in last years


    Strict limited mintage of 7,500 coins worldwide and is sold out


    Coin comes in a beautiful presented in a prestigious color case with numbered COA

.
In the series of Treasures of Australia you can find:
.

  2007 Treasures of Australia – Sapphires

  2008 Treasures of Australia – Opals


  2009 Treasures of Australia – Diamonds

  2010 Treasures of Australia – Gold Nuggets


  2011 Treasures of Australia – Keshi Pearl
.