.
Very low mintage for this perfect series, only 7,500! each coin.
Silver series Treasures of Australia is a beautiful series of locket coins celebrating Australia's abundance of natural riches.
This first release contains stunning blue sapphires, which are found in major accumulations in Queensland and New South Wales. Coin contains 1-Carat of Sapphires.
The design surrounds a transparent half-circle locket containing approximately 1-carat of sapphires.  Linked through time with many special properties, including wisdom, loyalty and healing, sapphires are also the birthstone of people born in September. Scheduled for release between 2007 and 2011, Treasures of Australia celebrates five glittering prizes found in Australia:  Sapphires, Opals, Diamonds, Gold nuggets, and Pearls.
.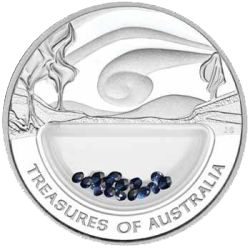 …
.
…
    Perth Mint has issued amazing series Treasures of Australia in a full 31,1 grams 99.99% pure silver coin


    Diameter 40.6 mm and beautifully designed coin is made of 99.99% pure silver Proof coin


     Reverse design portrays an abstract interpretation of Australia's stark and beautiful landscape. The design includes one the inscriptions "TREASURES OF AUSTRALIA" and Contains 1-Carat of Sapphires seen from two sides


    Obverse: Effigy of Queen Elizabeth II, Country Australia, Weight 1 oz. silver 999, date of issue 2007 and the legal tender value of 1$ Australian Dollars


    Mintage is 7,500 and is very popular series from Perth Mint in last years


    Strict limited mintage of 7,500 coins worldwide and is sold out


    Coin comes in a beautiful presented in a prestigious color case with numbered COA

.
In the series of Treasures of Australia you can find:
.

  2007 Treasures of Australia – Sapphires

  2008 Treasures of Australia – Opals


  2009 Treasures of Australia – Diamonds

  2010 Treasures of Australia – Gold Nuggets


  2011 Treasures of Australia – Keshi Pearl
.
.
History:
Sapphire 'blue stone',which probably referred instead at the time to lapis lazuli) is a typically blue gemstone variety of the mineral corundum, an aluminium oxide (α-Al2O3). Trace amounts of elements such as iron, titanium, chromium, copper, or magnesium can give corundum respectively blue, yellow, purple, orange, or green color. Chromium impurities in corundum yield pink or red tint, the latter being called ruby.
Commonly, sapphires are worn in jewelry. Sapphires may be found naturally, by searching through certain sediments (due to their resistance to being eroded compared to softer stones) or rock formations. They also may be manufactured for industrial or decorative purposes in large crystal boules. Because of the remarkable hardness of sapphires – 9 on the Mohs scale (the third hardest mineral, after diamond at 10 and moissanite at 9.5) – and of aluminium oxide in general, sapphires are used in some non-ornamental applications, including infrared optical components, such as in scientific instruments; high-durability windows; wristwatch crystals and movement bearings; and very thin electronic wafers, which are used as the insulating substrates of very special-purpose solid-state electronics (especially integrated circuits and GaN-based LEDs).

.