In our online store, another set has appeared that should be of keen interest to collectors. Here is a set of four gold coins that impress with the quality of details and noble workmanship. What's more – in perfect NGC MS70 mint condition.
Set of American gold coins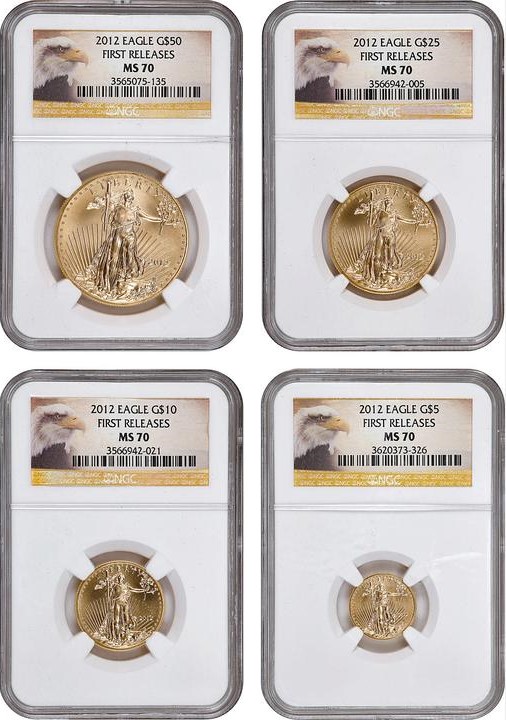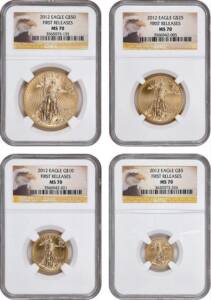 Let's clarify: the NGC MS70 condition means that independent experts have assessed the coin's condition as perfect – it is preserved as if it had just left the mints, there are no imperfections, its mirror is perfect in every way. Have any doubts? Check out the photos. This set of US gold numismatic coins was issued in 2012, and after a decade it looks essentially unchanged.
The set consists of coins of four denominations and varying 22-karat gold content – $50 (1 ounce), $25 (half ounce), $10 (quarter ounce), $5 (1/10 ounce). The gold eagles have been minted with an identical design since 1986. The image of Standing Liberty refers to the 20-dollar Gold Eagle coin from 1907-1933, while in the second image – an eagle in flight holds an olive branch over a nest with a female and two young. The whole thing looks remarkably elegant, but if you take into account the fact of the perfect condition of NGC MS70… you are facing a unique opportunity to enrich your collection.
Special features of the coin:
Set with a total of more than 57 g of gold

High sample of precious bullion

Legendary American coins

Set dated 2012

No imperfections of any kind