Australia's Bull Ant – 1 OZ silver proof coin

The 10th release of the sold-out the Australian Deadly & Dangerous Silver Proof Series showing images of the most dangerous Australian animals. This coin has been minted to honor a truly terrifying Australia's iconic Bull Ant.
Having first appeared approximately 100 million years ago, the Bull Ants are one of the oldest world's ants. They were once found in both the Americas and Europe. They are believed to be first discovered in Australia by Sir Joseph Banks in 1770 when he was sailing
the world with James Cook. Today Bull Ants are known by over 90 species, but only one of them is endemic to Australia.
This species is known for its large and powerful jaws and venomous stinger. Bull Ant has been certified by Guinness World Records as the most dangerous ant in the world, having caused a number of deaths to humans who were allergic to their potent venom.
The coins is a brilliant exemplification of the Perth Mint's full-color minting techniques. The distinctive appearance of the Bull Ant has been captured perfectly upon the crown-sized 40.60mm on the reverse of the coin. The obverse includes the image of effigy of Queen Elizabeth II, "Tuvalu", and the legal tender value.
Every coin is comes in a special high-gloss timber case with a numbered Certificate of Authenticity confirming the limited mintage of the series.
Special Features:
    Contains 1 oz / 31,1 grams of .999 fine Silver.

    Struck by Australia's precious metal specialists – the Perth Mint – as official Tuvalu legal tender
    Coin comes in a special high-gloss timber case with a numbered COA.
    Strict limited mintage of only 5000 coins – as with EVERY sold-out Deadly & Dangerous
    Obverse: Effigy of Queen Elizabeth II, "Tuvalu", and the legal tender value of 1 Dollars.

    Reverse: Distinguished by a frightening full-colour appreciation of the Australia's Bull Ant
In the series of Deadly & Dangerous you can find: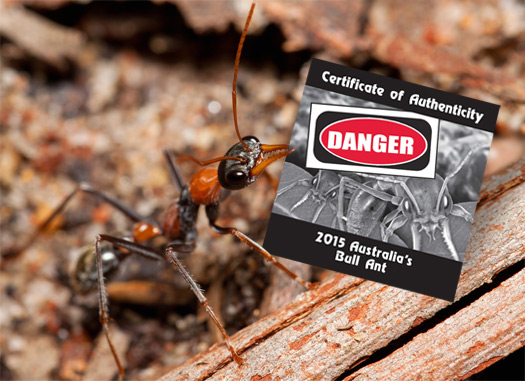 2006 Deadly & Dangerous – Red-back Spider

  2007 Deadly & Dangerous – Great White Shark

  2008 Deadly & Dangerous – Blue-ringed Octopus

  2009 Deadly & Dangerous – Saltwater Crocodile

  2010 Deadly & Dangerous – Eastern Brown Snake

  2011 Deadly & Dangerous – Box Jellyfish

  2012 Deadly & Dangerous – Funnel-web Spider

  2013 Deadly & Dangerous – Yellow Bellied Sea Snake

  2014 Deadly & Dangerous – Spider-Hunting Scorpion

  2015 Deadly & Dangerous – Australia's Bull Ant

  2016 Deadly & Dangerous – Australia's Death Adder