Our online numismatic shop is the place where you order really unusual coins – the ones of rare bullions, with unique shapes or bizarre motives. The separate category includes… the heavy coins. We show Krugerrand, gold collectors' coin from South Africa, which may be familiar to you, as it was issued 50 years ago. But this edition is only on special request. Why? Because it really weighs a lot.



To bear the weight of luxury

Let's begin from the history of the coin, which is known all over the world. Krugerrands, because we are speaking about them, were first emitted in 1967, so, easy to guess, there's no better date to celebrate the round, gold (aptly named!) anniversary. From the very beginning, the South African coins were made of pure gold. As the years went by, South African Mint decided on ameliorations and variations. The coins are legal tenders, but above all they are collected or bought as an investment. In times of apartheid, that is in the 70s and the 80s, transporting the coins out of country was formally illicit.
Over the years, the look of the coin remained traditional and minimalistic. Obverse shows the famous 19th century president Paul Kruger and reverse shows springbok antelope, which is a national symbol of South Africa. If you wonder, what is the language of the name Suid Afrika – this is Afrikaans language.   
          
Let's take a look at the offer for the collectors. As we mentioned, this coin is available only on order. Its special feature is obviously weight – the whole 50 ounces of gold (that is almost 1,5 kilogramme!). The whole coin weighs 1696,6 grams, which is absolutely beyond standards. Remember that the standard collectors' coins weigh about 20-30 grams, not about 1700…


Krugerrand in its heavy version has a 100-millimetre diameter and gold is of 91,67 fineness. Proof seal and serrated rim are conspicuous as well and increase the coin's value in collectors' eyes. Do we deal with African luxury here? Of course, because we can get them for you one of 50 emitted units. Such small mintage guarantees that your investment will pay back in the future. Such unusual coins are bought by sophisticated collectors, but also by people who like to invest money in a peculiar way. And gold is gold – particularly when it weighs 1,5 kilogramme.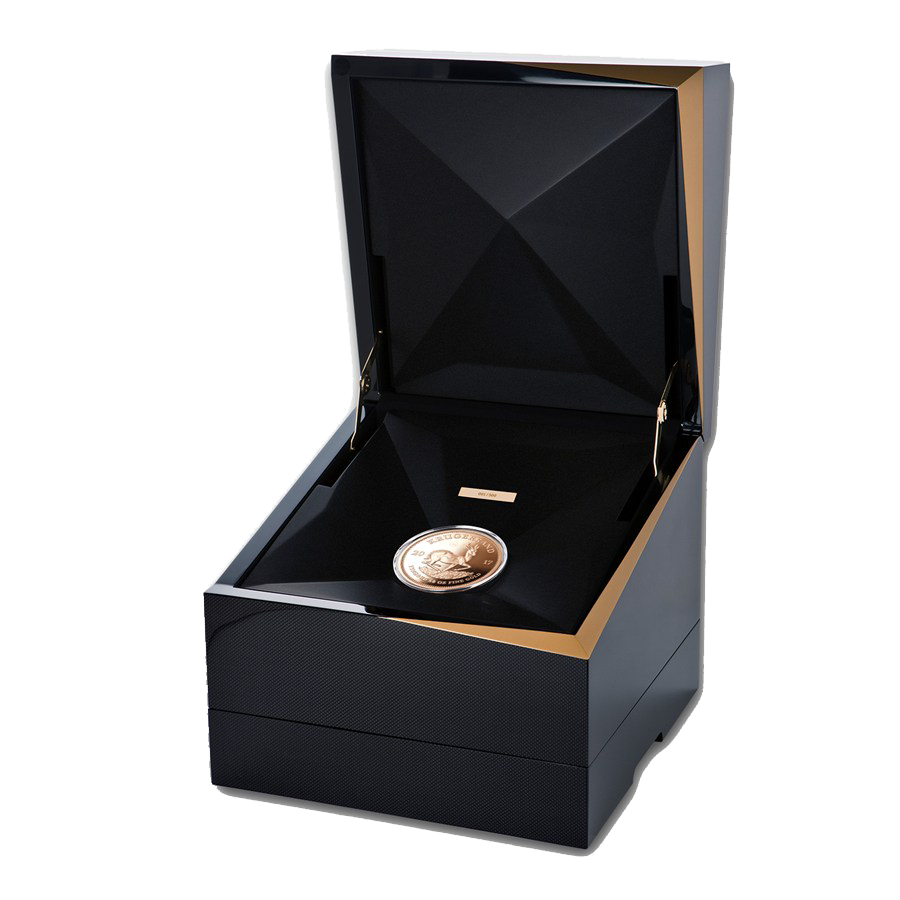 The set contains also an exclusive box for keeping coins in special conditions and a certificate of authenticity. We are looking forward to hearing from you, because the coin is available only on request. You won't be disappointed when you get such precious shipment!
Proof Gold and Silver Krugerrand coins 50th Anniversary:

South Africa 2017 – 1 Rand Krugerrand 50th Anniversary 1967-2017 Silver Proof

South Africa 2017 – 1 Rand Krugerrand 50th Anniversary – Silver Premium Uncirculated
South Africa 2017 – 3-Coin Vintage Krugerrand 50th Anniversary 1967 – 2017 Gold Set
South Africa 2017 – 5-Coin Vintage Krugerrand 50th Anniversary 1967 – 2017 Gold Set

South Africa 2017 – Krugerrand 50th Anniversary 1967 – 2017 – 5 oz. Gold Proof Coin

Special features of Krugerrand set coins:


  One of a kind large-sized coin


  The coin weighs almost 1700 grams


  Limited mintage of only 50 units worldwide


  A rarity for sophisticated collectors and investors


  An example of luxurious and traditional coin from South Africa