.
Mintage is strictly limited only 2500 pieces worldwide!
.   
A new concept 3D "Gold Leaf Collection"
Outstanding in the World of Coins!
Extraordinary Coin Issue with a Pure Gold Gingko leaf!
A real three dimensional pure gold "Gingko leaf" on the obverse of a silver coin. The size of the leaf is approximately 28×28 mm and made from hammered gold.
.
.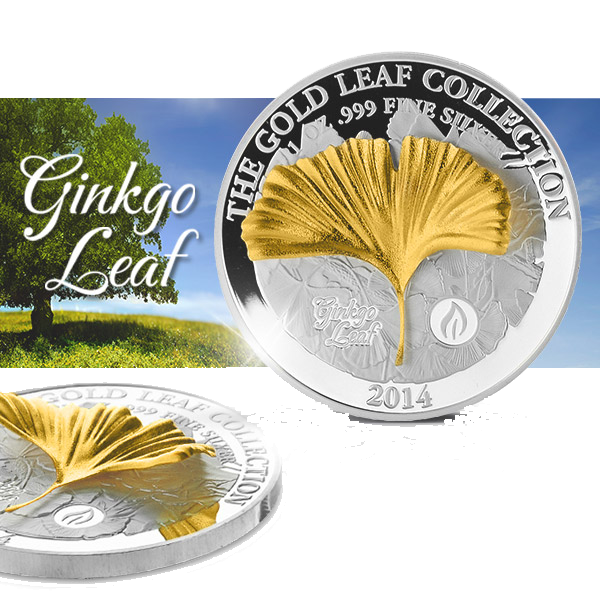 Contains  31,1 grams / 1 oz. of 0.999 Pure Silver and concept 3D "Gold Leaf Collection"

  1 ounces of pure silver immortalized – On a coin is a perfect "Gold Leaf Collection" Inlay! Diameter each coin is 40 mm


  The coin is housed in a presentation wooden box with certificate


  Strict limited mintage of only 2500 coins.

  Obverse: Coat of Arms, "Samoa" , the legal tender value of 10 Dollars and an inscription "FA'AVAE I LE ATUA SAMOA"


  Reverse: A very high quality rendition of front Portrait Gold Gingko leaf, an inscription: THE GOLD LEAF COLLECTION, 1 oz. .999 FINE SILVER, name Leaf: Gingko leaf and date of emission 2014


.

In the series of Golden Maple Leaves you can find:

.

  2014 Golden Maple Leaves – Chestnut leaf

  2014 Golden Maple Leaves – Ginko Leaf


  2014 Golden Maple Leaves – Maple Leaves

  2015 Golden Maple Leaves – Linden Leaf

.
.
.
.
.
.
.
.
  Historia:
Ginkgo biloba, known as ginkgo or gingko and also as the maidenhair tree, is the only living species in the division Ginkgophyta, all others being extinct. It is recognizably similar to fossils dating back 270 million years. Native to China, the tree is widely cultivated and was introduced early to human history. It has various uses in traditional medicine and as a source of food.
Ginkgos are large trees, normally reaching a height of 20–35 m (66–115 ft), with some specimens in China being over 50 m (160 ft). The tree has an angular crown and long, somewhat erratic branches, and is usually deep rooted and resistant to wind and snow damage. Young trees are often tall and slender, and sparsely branched; the crown becomes broader as the tree ages. During autumn, the leaves turn a bright yellow, then fall, sometimes within a short space of time (one to 15 days). A combination of resistance to disease, insect-resistant wood and the ability to form aerial roots and sprouts makes ginkgos long-lived, with some specimens claimed to be more than 2,500 years old.
.