A sparkling celebration of Australia's endangered, iconic Mahogany Glider, this spectacular legal tender coin is struck to immaculate Proof quality from a whopping 1oz of 99.99% pure gold. An exclusive opportunity to experience a true masterpiece of precious metal minting, this prestigious release has a tiny mintage of just 150 coins. Act now!
    Exclusive! Worldwide mintage restricted to a mere 150 coins!

    Struck to immaculate Proof quality from a troy ounce of 99.99% pure gold

    Official legal tender issue of Niue – measures a crown-sized 38.61mm

    Each coin set within a timber case

    Accompanied by a numbered Certificate of Authenticity

    Features individual edge-numbering that matches the Certificate!

History:
The mahogany glider (Petaurus gracilis) is an endangered gliding possum native to a small region of coastal Queensland in Australia.
A nocturna arboreal marsupial, the mahogany glider closely resembles the sugar glider, the squirrel glider and the yellow-bellied glider, but is noticeably larger than any of its relatives (26.5 cm long and 410 g) and long tail (34–40 cm). The species gets its common name from its mahogany-brown belly and the similar colour of its patagium, or gliding membrane. Unlike related gliders, it has a golden mendulla section[clarification needed], rather than grey. The tail is covered in short hair, and is black on the underside.
These gliders are sexually dimorphic, with the males being larger than the females, although the latter usually have a longer tail in proportion to their body. In terms of their body length, females are marginally smaller, measuring 23 to 27 centimetres (9.1 to 10.6 in) compared with the male body length of 23 to 28 centimetres (9.1 to 11.0 in), but they have a slightly longer tail, measuring 35 to 41 centimetres (14 to 16 in) compared with 34 to 41 centimetres (13 to 16 in) in males. However, despite their similar apparent size, the females, at 310 to 454 grams (10.9 to 16.0 oz), are much more lightly built than the males, which weigh between 345 and 500 grams (12.2 and 17.6 oz).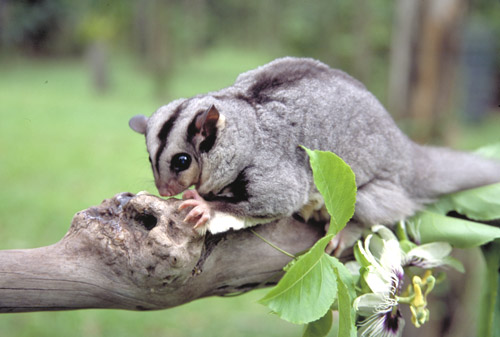 .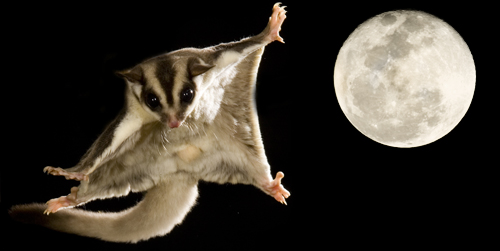 .
.