If one looks for comparisons, since gold is a precious bullion, the function of honey bees in the ecosystem is priceless. Priceless! That's why it is so important to remind the role of these insects, which can be done in many ways, including…. issuing valuable collector coins. By the way, there is a great opportunity to celebrate the 200th anniversary of a certain event.
Honey bees for 200 years in Australia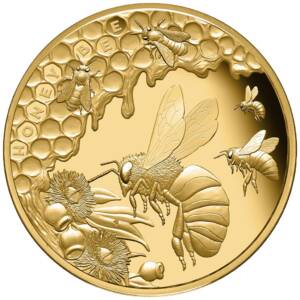 Honey bees made their way to Australia in 1822 – to be precise, this happened aboard the ship Isabella, which arrived in Sydney. For a developing country, this was an important event. The role of bees in the ecosystem, but also in agriculture or horticulture, cannot be overestimated. 200 years later, in 2022, a special series of numismatic coins was issued to mark the occasion.
One of the variants of the "anniversary" Honey Bee coin is this one – minted from 1 ounce of pure gold. The reverse features a precise rendering of five honey bees, along with flowers and a honeycomb. Here, every detail is awe-inspiring, a testament to the craftsmanship of the designers and engravers.
The issue was limited to just 99 copies worldwide. That is why this offer is so unique. Order an exclusive and strictly limited numismatic coin today!
Special features of the coin:
Strictly limited mintage – only 99 pieces

Honey bee motif

Beautiful, genuine, pure gold – 1 ounce

Ingeniously realized design

An important commemoration in the form of a valuable coin