Space itself is incredibly beautiful, but what would happen if such a star-filled cosmic abyss was combined with 99.99% gold? Master engravers from Niue decided to answer this question and created this heavily limited gold coin that will delight even the most demanding collectors.
Gold coin as if from another planet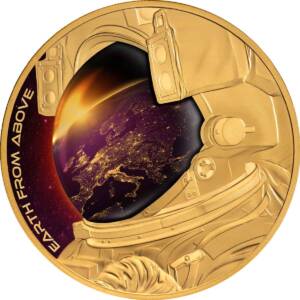 The obverse of the coin depicts the helmet of a cosmonaut, in whose glass is reflected a fragment of our planet as seen from space. The image in the background looks like the real thing, the glass of the helmet shines like natural glass, and the stars sparkle vividly. The high level of realism has been achieved by using a modern technique known as paint beating. This adds additional value to the gold collector coin and makes it undoubtedly stand out from other copies. On the left side, along the edge is placed the inscription Earth From Above, written in large letters. On the reverse, meanwhile, you will see the likeness of Queen Elizabeth II
The numismatic coin was made with attention to even the smallest detail, and as a result, the box in which it was packaged is also unique. The styling of the packaging is pleasing to the eye, bringing to mind the screens mounted on space vehicles. Order this amazing gold collector coin today, and we guarantee it will be shipped to you at the speed of a space rocket! Also remember, the mintage is severely limited.
Special features of the coin:
Limited mintage – only 99 pieces worldwide

The reverse features a prominent image of Queen Elizabeth II

Product packaged in a unique dark case

Unique artwork

A must-have item for space enthusiasts