The year 2021 marked the 95th birthday of Queen Elizabeth II, who has been on the British throne for a record length of time, since 1953. The event was heavily covered around the world, especially in Commonwealth countries. The Niue Territory, for example, issued the following luxury numismatic coin, which has just been added to the Coins From World offering. Since you're looking for valuable, rare coins from the world – don't delay in ordering!
An exclusive coin for a special occasion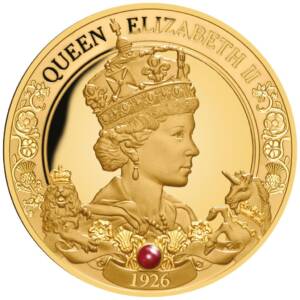 Queen Elizabeth II was born in 1926 – so it's easy to calculate that she reached the beautiful age of 95 in 2021. Despite such a long reign, she remains an active Monarch, who is still seen at events of special importance. Her birthday was honored with an exclusive collector's coin, for the minting of which 1 ounce of gold was used.
However, it is not the precious medal that is the most valuable part of the numismatic coin, as it is the real ruby, which impresses with its characteristic color and the brilliance it spreads.
Only 150 such pieces were created, and each one impresses with its extraordinary precision of detail. The finely crafted design deserves the highest praise – add the coin to your collection!
Special features of the coin:
Dazzling ruby

Stunning details

Unique anniversary

1 ounce of pure gold

Exclusive issue