Queen Elizabeth II is a true phenomenon – she has sat on the British throne continuously since 1953. It should come as no surprise that to honor Her Majesty, coins are designed and minted that can be called excellent in many respects. Here is one of them – currently available from Coins From World.
To the glory of Her Majesty the Queen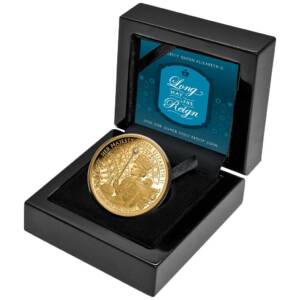 Elizabeth II's reign has lasted a record length of time; it's been a good few years since she surpassed the previous record of her great-grandmother, Queen Victoria. Her Majesty, who is the crowned head of the United Kingdom, but also of Commonwealth countries such as Canada and Australia, is globally respected, and her image adorns many coins.
Few coins, however, are as perfect as the one you can order from our numismatic online store. It was minted in 2020 using 1 ounce of pure gold, and what catches the eye above all is the extraordinary precision in the execution of the details and ornamentation of the intricate reverse. An additional value of the numismat is the beautiful diamond set on the Queen's sceptre. Importantly, the 2020 issue from Niue included only 150 such pieces.
Special features of the coin:
Gold coin with diamond accessory

Issued from the oceanic territory of Niue

In honor of Her Majesty Queen Elizabeth II

Third installment of the series dedicated to the Queen

Elegant wooden collector's box