1.5 ounces of gold were used to mint for each of the 100 copies of this limited, unique coin issued by Niue. The magnificent design has been handled in just the right way, so the workmanship dazzles in every way. Do not hesitate – invest and enjoy a real ornament of your collection, which, according to its symbolism, can bring good luck....
Coin – tree of happiness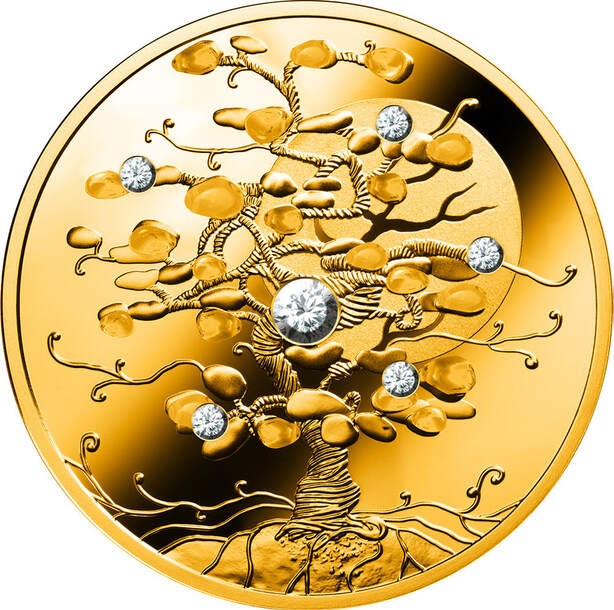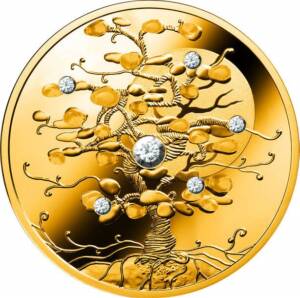 The numismatic coin belongs to an interesting series of coins from Niue, on which the lucky tree is decorated with amethysts, pearls or malachite. This variant relies on timeless and luxurious real diamonds. They are what make the lucky tree shine and look spectacular.
The mirrored background allows you to look at the details of the engraving – the plant has been rendered finely, but at the same time precisely.
This numismatic coin is dated 2019, and, sure enough, its mintage quickly ran out. Each of the 100 minted pieces stimulates the imagination and hopefully truly brings good luck, just like the tree it depicts. Invest today in a coin whose beauty, as well as its material and collector value, are generating a lot of interest in the market.
Special features of the coin:
High material and collector value

Meticulously reproduced details of the plant

Symbolism of the tree of happiness

Combination of gold and diamonds

Beautiful appearance – low mintage (100 pieces in issue)