This set of silver commemorative coins has been issued to show the beauty of one of the most incredible pieces of art in the history – the Sistine Chapel ceiling fresco by Michelangelo. We recommend every art lover to be hurry as the limited mintage of only 500 sets worldwide will disappear soon!
The Sistine Chapel ceiling fresco was painted by Michelangelo between 1508 and 1512. It is a cornerstone work of High Renaissance.  It was painted at the commission of Pope Julius II.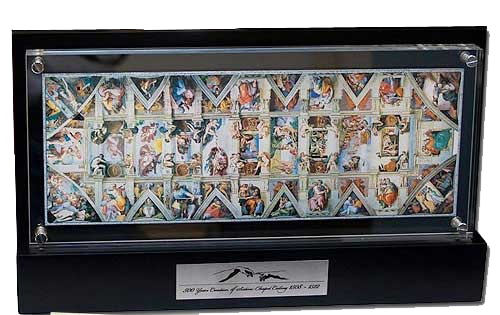 The ceiling includes various elements which are the part of lager scheme of decoration within the Chapel. It includes also The Last Judgement fresco, which was painted on the sanctuary wall, but also some wall paintings by several leading painters of the 15th century.  The central part of the fresco includes nine scenes from the Book of Genesis. The design includes some sets of individual figures (clothed and nude), which shows the skill in creating various poses of humans depicted in the fresco.  
The set includes 33 silver coins with a tender value of 1 dollar. The total weight of the coins is 1 kg.
Every package includes the coins and a Certificate of Authenticity. The set is delivered in a decorative wooden box, cushioned with black fabric.
This set is a perfect gift for every art lover and for a collector who wishes to supplement his or her collection with unique coins.
Special features:

  The set of 33 silver coins features The Sistine Chapel ceiling fresco in full-color 

  Completly sold out!

  Made of 1 kg 99.9% pure Silver

  5 different sizes of silver edgeless bars in proof quality

  Extremely limited mintage of only 500 sets

  Coin is housed in an exclusive wooden box. Certificate of Authenticity is included