This coin has been issued to commemorate the 5 th anniversary of the Leonardo Da Vinci codex. A limited mintage of coins launched in 2011 shows the details of the Da Vinci codex in 24 pure silver coins decorated with color enamel.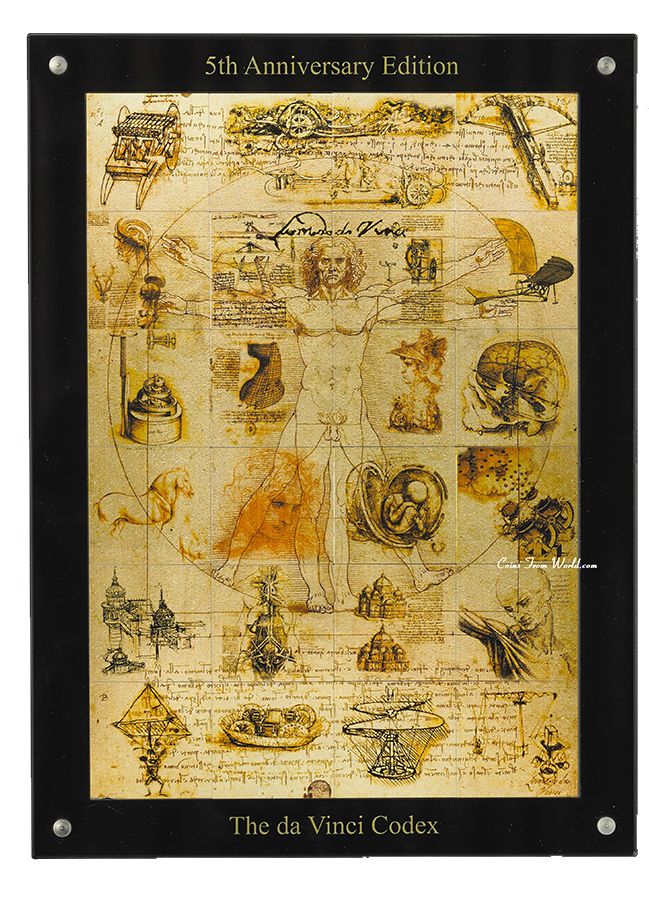 The set shows one of the well-known images by Leonardo Da Vinci: the flora and fauna of his times and some of his inventions. The depicts are in the front ground. The background shows probably the most famous sketch by the great inventor – a naked man in a circle with his legs and arms spread. The background includes also some writings made by Da Vinci. Thanks to modern techniques of edgeless printing and coloring, the set includes the colors similar to those in the original Codex.
The obverse of the each of the coins shows the face value of 1 USD giving the total value of 24 USD.
Each coin is delivered in a beautiful and elegant wooden box with the certificate of authenticity inside. Thanks to its packaging, the set is perfect gift for every art lover and coin collector around the world.
This set has been minted in limited mintage of only 100 sets worldwide! Be hurry to get yours!
Special features:

  A gorgeous 24-coin set is dedicated to Leonardo da Vinci Codex


  This 24-piece proof quality and full-color silver coins comes together to form one coin unit

  The coin features da Vinci's famous drawings and sketches and provides an insight into the inquiring mind of an artist


  The coin is struck from 1 kilo of .999 pure silver


  The effigy of Queen Elizabeth II is featured on the obverse of the each coin

  Extremely limited mintage of 100 pieces worldwide


  The coin is protectively sealed within a perspex case and housed in an elegant, wooden presentation case. A Certificate of Authenticity is included