After the eagle wolf and the ram, the time has finally come for the falcon, which for the people of Mongolia is a symbol of freedom and power. It is a protected, wild, predatory bird that is impossible to find in its natural habitat. Today you can order the fourth numismatic coin of the Wild Mongolia series with the bird's likeness shining on the obverse.
The fourth collector coin in the Wild Mongolia series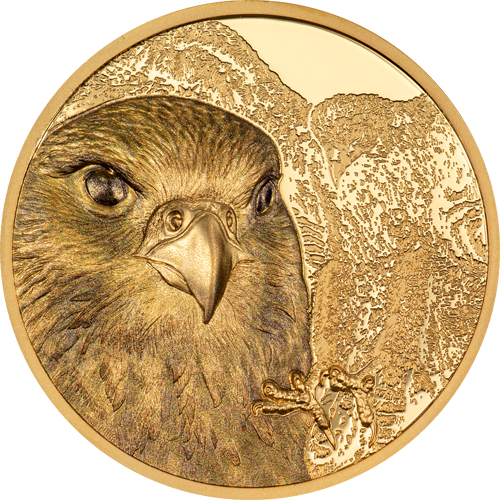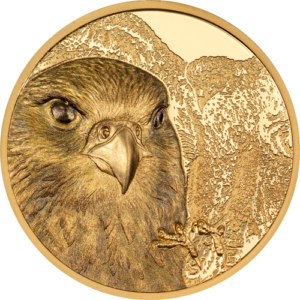 A state-of-the-art minting technique called smart timing has enabled engravers to reproduce the bird's face with unprecedented precision. Presented from the front, the falcon gazes serenely from the left side of the obverse, while the right side is filled with an image of the bird's silhouette with outspread wings, captured in flight. The obverse depicts only graphics and no markings were included.
The distinctive reverse is typical of the coins of the series. The relevant markings were placed in an octagon embedded in a graphic depicting sharp falcon talons on a tree branch. Both sides of the coin look excellent thanks to the use of exceptionally high relief and a proof quality finish. Numismats included in the Wild Mongolia series are decorated with images of the region's most important animals. Like the other pieces, this one was also issued in a limited edition, which in this case amounted to 199 pieces.
Special features of the gold coin:
Ultra-high relief

Proof finish

Coin packaged in a special, elegant box

The reverse also featured the original artwork

Includes a certificate of authenticity