The latest, fourth piece in a series that has managed to win the hearts of many collectors over the years. Introducing a unique collector's platinum coin, produced in only 199 pieces, which is a worthy addition to this renowned Mongolian collection.
Ruler of the Mongolian skies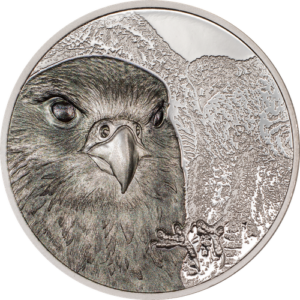 The common hornbill is a wild, predatory bird that is very important to Mongolian culture. As the Wild Mongolia series includes coins with the most important representatives of the country's fauna, the noble falcon couldn't be missing from it as well. Numismats from the Mongolian collection are characterized by a unique, unprecedented high relief reaching almost to the edges of the coins, which makes the engravings visible on both the reverse and obverse take on a new dimension. The two faces of the falcon presented on this numismatic coin command respect and it is impossible not to appreciate the craftsmanship with which they were executed.
On the reverse, in addition to information about the purity of the bullion, the face value and the weight of the coin, there is also the logo of the Central Bank of Mongolia. These elements are enclosed in an engraved geometric shape with a decorated border. We offer several versions of this coin made of different bullion. The featured piece was created from .9995 grade platinum and is hidden in an elegant box with dedicated artwork.
Special features of the platinum coin:
Limited mintage – only 199 pieces!

Proof finish

Original engraving on both sides of the coin

Modern smartminting technology used

Includes a certificate of authenticity