The specimens included in the Wild Mongolia collection are characterized by meticulous workmanship and extremely detailed graphics. The third coin in the series referring to the wild fauna of Mongolia is no different. The numismatic mintage has been limited to just 199 copies!
A noble animal on a gold numismatic artwork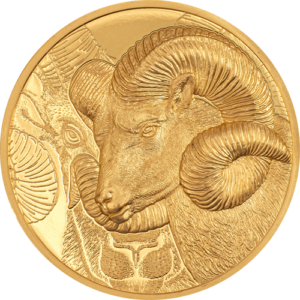 Representative of the third part of the series is the Argali. These powerful animals are found in East Asia, where they have enjoyed universal respect since the dawn of time. The composition presented on the obverse shows the profile of the animal and its image as seen from the front. Thanks to the use of very high relief, the graphic depicted in the foreground is realistic and fully captures the multitude of details. The animal's fur and horns shine on a surface made of pure 99.99% gold.
Adding to the uniqueness of this uncommon piece is the fact that the original design is also on the reverse. On the other side of the coin, carefully crafted horns can be seen on the patterned background. They grow out of a circle with a smooth surface, on which information on the date and place of issue and the coin's face value are included. Such a beautiful coin will perfectly enrich your collection!
Special features of the gold coin:
Part of the Art Of Mongolia collection

Ultra High Relief

Coin with certificate of authenticity

Distributed in a beautiful case

Quality proof