The lineup of the Wild Mongolia collection expands every year. New pieces in various versions regularly go on sale, and we offer them to our customers at attractive prices. The third variant in the series available in platinum is no different.
Aries horns enlightened with platinum luster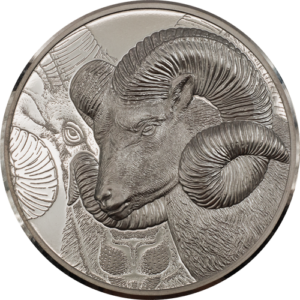 The collector coin depicting a ram proudly flexing its horns was made of high-quality platinum. This unique bullion perfectly matches the high relief, giving the image of the mountain animal due elegance. The relief effect was achieved by using smartminting technology, which was pioneered by the Wild Mongolia series. The profile of the ram's head occupies most of the right side of the reverse. The image of the animal's head on the left side of the coin, depicted from the front, in turn provides an interesting background.
Information such as face value, bank logo and country of origin can be seen on the reverse. They are incorporated into the ram's horns, made in high relief, enclosed in a decorative circle. When you take a closer look at the fur and the animal's horns, you'll see how extraordinary care was taken to transfer these elements to a small coin made of 1 ounce of the highest quality platinum. Its uniqueness is further emphasized by the fact that only 199 pieces were released. The ram, called "Argalii" in Mongolia, is a strong and agile animal held in high esteem in the country. Let the glow of the platinum ram horns illuminate your collection!
Special features of the platinum coin:
Distribution in a decorative box

Ultra-high relief

Proof finish

High collector value

Certified coin