Although the Wild Mongolia coin series is relatively fresh, it has already managed to win over a group of admirers. The third to join the group of Mongolia's most notable animals is the wolf, which is not only in Mongolia considered the lord of the woodlands.
The lord of the forest shrouded in platinum luster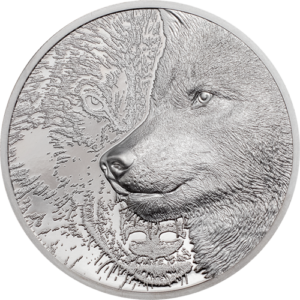 The .9995 grade platinum used in the production is in perfect harmony with the carefully engraved wolf hair. The design of the obverse created by CIT professionals depicts two wolf faces. The profile of the animal, visible on the right, has been enhanced with an intricate engraving showing the wolf's snout as seen from the front. The two graphics work well together, The combination of incredibly detailed engraving with high quality platinum has resulted in a unique numismat.
Filled with wild, open spaces and forests, Mongolia is an ideal habitat for pack-living wolves. These intelligent animals are rare, and so is the presented platinum coin, which was issued in a number of 199 pieces only, so we recommend ordering it as soon as possible!
Powerful wolf fangs on a patterned background presented on the reverse add variety to the information regarding the denomination value and the platinum sample. The sharp teeth seem to pierce through the surface of the platinum collector coin thanks to the use of state-of-the-art technological innovations.
Special features of the platinum coin:
Includes a certificate of authenticity

Original decorative box

Proof finish

Original engraving on both sides of the coin

Made with smartminting technology