The eagle is a symbol of leadership, vision and strength. This noble bird of prey became the main inspiration for the gold collector coin, which we offer in our numismatic store. This is the first piece representing the Wild Mongolia collection, and there is no doubt that it launched the series with due dignity.
King of the skies crowned with gold coin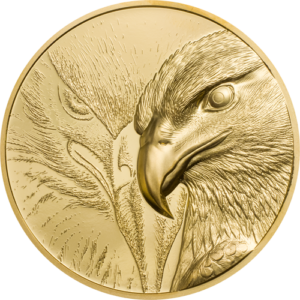 If you're looking to expand your collection with new unique collectible gold coins, this piece of art made of pure 99.99% gold is available for purchase today. Remember that the piece is limited and only 199 copies were produced!
The reverse features a double image of an eagle's head. The bird's proud look is further emphasized by the shiny gold surface of the collector coin. Its other side shows a more predatory face of the animal – sharp talons and an arrow are visible on it. The circular border at the top contains information on the numismatic coin's place of origin and face value.
The sharp talons of the eagle presented on the obverse appear to pierce the surface of the gold coin and come outwards. This unique effect was achieved thanks to the enhancement of Smartminting technology. The use of state-of-the-art techniques has made the image extremely clear and, when viewed from the right angle, can appear three-dimensional.
Special features of the coin:
Beautiful graphics on both sides of the coin

Includes a certificate of authenticity

Country of production – Mongolia

Quality proof

Amazing attention to detail