Only 100 of these were made – this is a coin containing 2 ounces of pure gold, on top of perfect NGC PF70 condition. It looks like new, but is valuable, as befits a rare numismatic coin. Consider this an opportunity to make an exceptional investment and add to your collection with a unique, valuable coin with a special motif.
Saying goodbye to the Queen's Beasts series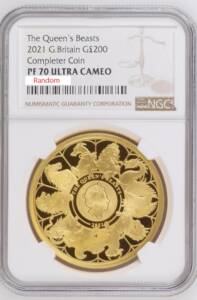 The Queen's Beasts is a heraldic motif that has been successively used in successive issues of The Royal Mint over the past few years. Coins with particular characters like the Welsh red dragon or Scottish unicorn or Edward III's griffin provide a better understanding of the symbolism involved in Elizabeth II's accession to the throne. Today, as the monarch retired to eternal rest after a record-long reign, this series of coins takes on an even deeper dimension.
Note the meticulous attention to detail, and how many interesting motifs have been included on a single coin. The Queen's Beasts deserved a worthy summation – of which this numismatic coin is a material dimension. One of only 100 – in perfect condition, and thus of very high and ever-increasing value.
Order today and see for yourself that if you invest in valuable gold coins from the best mints, it is with us – the Coins From World online numismatic store.
Special features of the coin:
All the Queen's beasts on one coin

The extraordinary elegance of The Royal Mint

Condition as new – NGC PF70

The culmination of the exclusive Queen's Beasts collection

2 ounces of pure gold