The "Queen's Beasts" series of the Royal Mint of Great Britain has a right to inspire admiration – not only among supporters of the traditional approach to numismatics. Heraldic motifs alluding to the coronation of Queen Elizabeth II took on a special character after the monarch's death. This is the perfect time to include this coin in your collection of valuable numismatic pieces.
The last coin in the series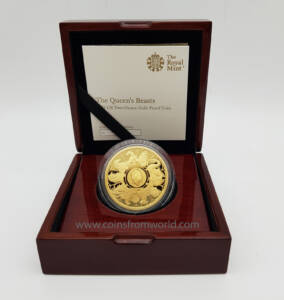 The Queen Beasts collection culminates with a special coin designed (on both sides) by Jody Clark himself. The design includes a "meeting" of all the Queen's beasts, so you could say it's a sort of compilation and summary of the entire series. And we're talking about a series, let's admit it, highly regarded. Look out for the individual coins that belong to it right here – in the Coins From World online store.
Only 100 such copies were created. As much as two ounces of pure gold were used in each. Even before the strictly limited coin went on sale, its value was known. Now that time has passed since its release, and the original sold coins have gone to collectors around the world, this variant is becoming even more sought after. Will you decide to purchase it? Don't delay your decision – invest today.
Special features of the coin:
Beasts of the Queen – a summary of the magnificent series

More than 62 pure gold to mint the coin

Heraldic motif associated with the coronation of Elizabeth II

Stunning work by the engravers of the British Royal Mint

Strictly limited issue – 100 copies worldwide