With his extensive discography, David Bowie could endow many different performers, meanwhile, over the decades it was he himself who set musical or stage trends, constantly inspiring successive musicians without dividing them by genre. The legend – without question – deserves to be commemorated. The Royal Mint created, among others, this extremely valuable luxury numismatic coin.
A premium legend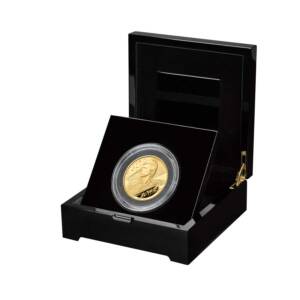 David Bowie is a legendary musician, and The Royal Mint is a legendary mint. For this reason, the numismatic coin you have the opportunity to order from Coins From World meets all the criteria to be considered a potentially sensational investment and a prestigious addition to a numismatic collection.
The design of the reverse was taken up by Jody Clark himself, i.e. the author of the current official image of Elizabeth II on coins (also from this series). The collector's value is significantly affected by the fact that David Bowie in this variant has been minted only 60 times. 60 copies! Such a limited issue speaks for itself.
What is especially important, the coin is made of as much as 5 ounces of pure 999.9 gold. An exceptional musician lived to see an exceptional commemoration. And will you decide to come into possession of this rare, desirable, valuable and…. simply beautiful numismatic coin from The Royal Mint Music Legends series?
Special features of the coin:
David Bowie as the hero of the precious coin

Series from Royal Mint: Music Legends

Over 156 grams of pure 999.9 gold

An exclusive, very rare coin

Designed by Jody Clark himself