David Bowie? A legend. A legend of music and pop culture – who, until his death, remained a defining figure of unconventionality and visionaryism without clear genre boundaries. Well, the UK Royal Mint considered him the perfect figure to commemorate within the same series as Queen and Elton John previously. How did it turn out? Explore one of the coins that make up the unique collection in silver.
The legendary Bowie on a silver coin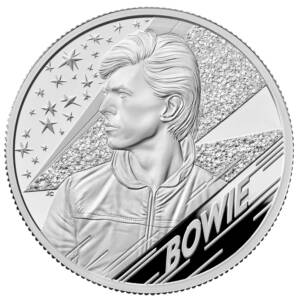 Right from his debut and memorable "Space Oddity", through "Ziggy Stardust…" and the Berlin Trilogy, to 'Blackstar', the last album released two days before the artist's death…. David Bowie had many iconic albums in his discography that still inspire both musicians and his fans today.
Are you one of the passionate fans of his work? Excellent, because we have a commemorative numismatic coin on offer with up to 2 ounces of silver and a great design. As usual, you can expect the highest standards of design and engraving from Royal Mint. Be sure to take the opportunity to order a limited edition!
Special features of the coin:
Only 550 copies available on the market

Excellent workmanship

2 ounces of fine silver

A tribute to the personality of David Bowie

Unique, elegant design