When the English Royal Mint decided to continue the Music Legends series, the band Queen received a worthy continuator in the person of Elton John. The artist approved the project, in which he was immortalized with iconic elements of his stage image. In turn, collectors of valuable coins faced a large selection of silver, gold and even copper-nickel numismats. Here you can order a piece that hides as much as 2 ounces of pure gold.
Gold Elton John – a valuable coin from the UK.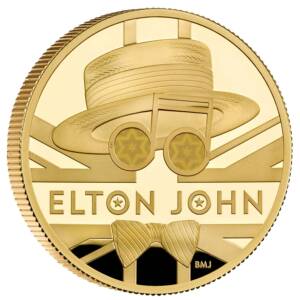 Bradley Morgan Johnson is responsible for the unique and thrilling design of the coin. In this case, the offer is for an extremely limited, rare, and therefore valuable numismatic coin, as only … 50 such variants. Their distinguishing feature is the 999.9 gold content of 2 ounces, or exactly 62.42 grams.
Thanks to the use of masterful, advanced methods, it was possible to remove all imperfections from the numismats. The proof quality meets the expectations of even the most demanding collectors. The whole thing looks extremely chic and appropriate to the value; the exclusive storage box was wrapped by the mint in a commemorative box – with a picture of Elton John, of course.
Special features of the coin:
2 ounces of pure gold

Gold purity 999.9

Master craftsmanship by The Royal Mint

Very limited edition of 50 pieces

A numismatic tribute to Elton John