Three Graces British gold coin from 2020 – precise reproduction of legendary engravings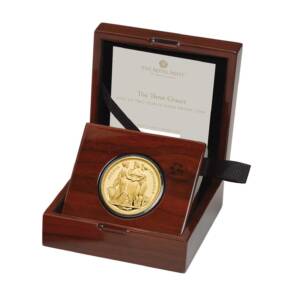 The Great Engraver Royal Mint numismat is a replica of the now classic 1817 design. The reverse of the remastered numismat was made according to the 19th-century design of the Royal Mint's chief engraver William Wyon. The three Graces represent the three countries (England, Ireland and Scotland) and represent their distinguishing marks. The arrangement symbolizes the relationship that the author desires should unite the said homelands. Noteworthy, however, is the dual possibility of interpretation, as the Three Graces is a motif also very well known from mythological stories.
Other elements of the iconic design (clovers, palm leaf or rudder), in turn, emphasize Britain's power at sea and success at the Battle of Waterloo. The obverse, in turn, features the likeness of Queen Elizabeth II of the United Kingdom of Great Britain and Northern Ireland, who sat on the throne from 1952 to 2022. Acclaimed British engraver Jody Clark is responsible for the design.
Special features of the gold coin:
The coin weighs 62.42 grams

The highest sample of pure gold – 999/1000

2020 vintage, numismatic coin from the second series

Attractive for collectors – only 325 pieces were minted

Denomination: 200 pounds