Years and decades pass, and Elton John still enjoys immense popularity. Music legend, style icon, inspiration for generations of artists and listeners – he is simply a big name of the British and world stage. There could hardly be a better justification for the artist's selection for the Music Legends – characters immortalized on The Royal Mint coins. Check out what makes the 2020 gold exclusive numismatic coin stand out.
Coin in honor of Elton John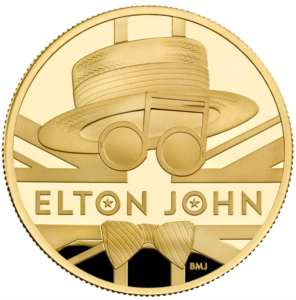 Finished to proof standard, the gold coin featuring Elton John meets the highest quality criteria of the Royal Mint – the legendary Royal Mint of Great Britain. Only 250 copies were produced in this version (the maximum mintage is 300) – and each of them was created from 1 ounce of pure 999.9 gold. More than 31 g of precious bullion naturally establishes the high value of the numismatic coin, but from the collectors' point of view the limited nature of the series or the unusual theme is very important.
A coin for music fans, a coin for lovers of gold in numismatics, a coin for collectors interested in the highest standard of workmanship – check our offer, because at Coins From World we currently sell many interesting coins from the Music Legends series.
Special features of the coin:
High standard proof

More than 31 grams of pure gold

Limited edition of 2020

Music Legends collection (other coins: Queen, David Bowie)

A beautiful tribute to the legend – Elton John