The next coin in the Windows of Heaven Giants series shows the replica of the window found in the Saint Peter Basilica in Vatican. A truly amazing design!
The reverse of this silver coin depicts the Alabaster Window of the famous Saint Peter Basilica in Vatican, Rome. Thanks to the incorporation of real stained glass in the colors of yellow and red, one can observe the window floodlit by sun rays. In the center, there is a dove being the symbol of the Holy Spirit. The window designed is circled by images of angels made of pure silver. Thanks to the skills of craftsmen, all the details on the angels` faces are visible!
The reverse of this coin shows the Alabaster Window with the dove in the center. Above it, there is the inscription "Elizabeth II" together with the legal tender value of 40 dollars and the place and year of issue.
The piece is delivered in an elegant presentation packaging accompanied by a numbered Certificate of Authenticity. The box also includes some LED lamps inserted to shine through the glass.
This huge coin with the diameter of 130 mm has been released in limited mintage. Only 999 pieces are available worldwide!
Special features:

  The third issue in fabulous Windows of Heaven Giants series


  Contains 10 ounces / 311 grams of 99.99 % pure Silver

  Coin is decorated with real stained glass

  Giant colored window replicating the Alabaster Window of St. Peter's Basilica in Rome


  Coin is housen in elegant presentation packing accompanied by a CoA. LED lamps are inserted in the collection box and shines through the window.

  Strictly limited mintage to only 999 pcs.

  Obverse: Alabaster Window of St. Peter's Basilica, Effigy of Queen Elizabeth II, "Cook Islands", the legal tender value of 40 Dollars and year – 2016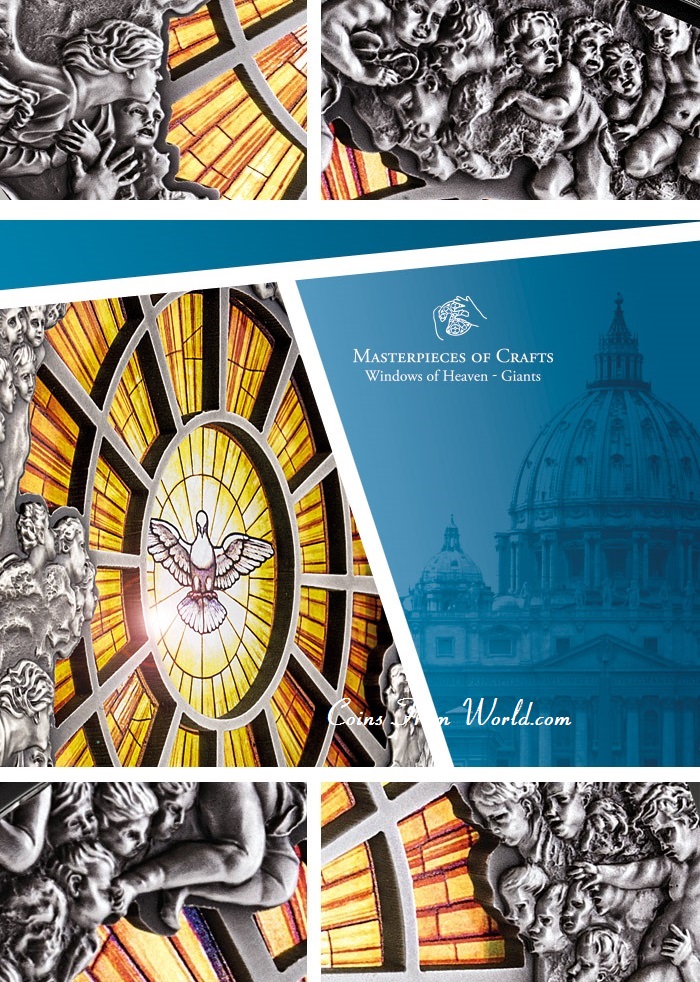 In the series of Windows of Heaven you can find:

  2010 Windows of Heaven – Cologne

  2011 Windows of Heaven – Notre Dame de Paris


  2011 Windows of Heaven – Sevilla

  2011 Windows of Heaven – Westminster Abbey London


  2011 Windows of History – Titanic

  2012 Windows of Heaven – Bethlehem


  2012 Windows of Heaven – Cracow St Francis


  2012 Windows of Heaven – St Isaac Cathedral


  2013 Windows of Heaven – Chartres


  2013 Windows of Heaven – Lourdes


  2013 Windows of Heaven – Milan Cathedral


  2013 Windows of History – Grand Central Terminal


  2014 Windows of Heaven – Buenos Aires


  2014 Windows of Heaven – Sacre Coeur


  2014 Windows of Heaven – Washington National Cathedral – Special Editon


  2014 Windows of Heaven Giants – Cologne Cathedral – Special Edition


  2015 Windows of Heaven – Zagreb Cathedral

  2015 Windows of Heaven – Storkyrkan Church of St. Nicholas

  2015 Windows of Heaven – Jerusalem Dominus Flevit


  2016 Windows of Heaven Giants – Notre Dame – Special Edition


  2016 Windows of Heaven – Hagia Sophia Istanbul

  2016 Windows of Heaven Giants – Alabaster Window of Saint Peter Basilica in Vatican – Special Edition