5 ounces of pure gold seem sufficiently encouraging to get to know more about another interesting coin issued by the Cook Islands. But… there are even more reasons! Get to know the 2016 offer – "Year of the Monkey". A coin that is both precious and unique for many reasons.
We celebrate in the year of the monkey…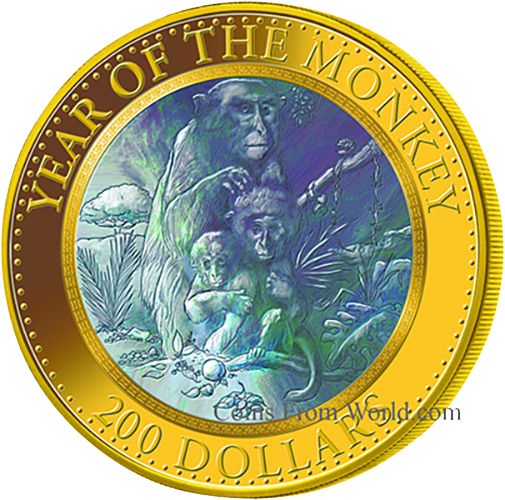 The 200-dollar face value looks very good in comparison with the golden color and general prestige of the coin, which was issued by the exotic and distant Cook Islands. Did you know that the coin weighs over 155 grams pure gold? The weight is exceptional, because it reflects the use of 5 ounces of pure 999/1000 gold. This justifies the price of the coin. However, we hurry to confirm: yes, everything indicates that in a few years this investment will bring profits.
It's so nice to see how the monkey year from Chinese zodiac was honored. Due to a diameter of 65 millimeters, you can closely examine the colourful mother of pearl image of monkeys in their natural surroundings. What's more, the creators applied a proof stamp and a serrated rim. Numizmat is packed in a decorative collector's pack, we also attach the original certificate of authenticity. At the end, a real bomb for collectors of valuable coins from around the world: the number of emitted coins is… 25 copies!
It's worth to mention also what exactly monkey symbolises in Chinese horoscope. People born in such years as 2016, 2004, 1992, 1980, 1968, 1956 or 1944 are considered to be intelligent and especially gifted, also due to their creativity. The search for inspiration results in a holistic perspective and an original approach to life. Monkeys are preceived in Asian culture completely differently than in European culture. They play an important role in local mythology, which is reflected in the large number of temples that one can visit while traveling to the Far East. Were you born in a year of the monkey? Take the above information… at face value!

Special features Mother of Pearl gold coin:

  Ornaments of mother of pearl.

  Exactly 5 ounces of 999 gold in one coin.

  Input limited strictly to 25 copies.

  One of the most valuable coins from 2016 available in Coins From World.

  A collector's item – a certain investment in gold