A unique silver coin has been issued to celebrate the 75th anniversary of the Hindenburg airship. A new piece in the bestselling Mother of Pearl Transport series of coins made of silver is now available to collectors around the world.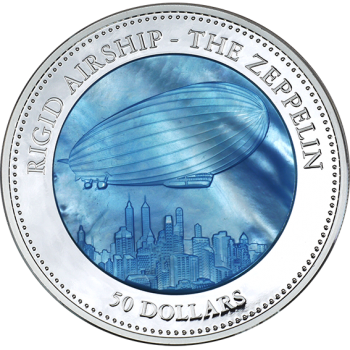 The reverse of the coin shows an image of a zeppelin sailing in grace in the air. It is flying over a city and its skyscrapers. Thanks to the craftsmanship of the Cook Island`s craftsmen, we can observe every single detail of the airship`s body and the buildings below the zeppelin. Above the image, there is the inscription "Rigid Airship – The Zeppelin". Below it, there is the legal tender value of 50 dollars visible.
The obverse of the coin includes the image of Her Majesty Elizabeth II together with the date and place of issue – the Cook Islands.
Each of the piece is delivered in an elegant frame box. On its lid, there are the image of a zeppelin and the inscription" Zeppelin" engraved.
The coins is available through limited mintage, including only 750 pieces for the collectors from the whole world. The beauty and uniqueness of the piece may make this issue a huge bestseller.
Special features:

  Cook Islands has continued the Mother of Pearl Series with this new coin that celebrates the 175'th anniversary of Airship Hindenburg


  Features a genuine blue Mother of Pearl insert with finest relief!


  The coin consists of 5 oz / 155.5 g of .999 pure Silver struck to flawless Proof quality

  A huge diameter of 65 mm


   Strictly limited! Only 750 coins minted!


  Coin is housed in elegant presentation case. Comes with a Certificate of Authenticity

  Also available as 5oz Gold edition with mintage just 25 coins
All coins in the Mother of Pearl Trnsport series:

  Cook Islands 2008 – 50$ Mother of Pearl – Tales of Caribbean


  Fiji 2012 – 50$ Mother of Pearl – Titanic 100th Anniversary

  Cook Islands 2013 – 50$ Mother of Pearl – Zeppelin 75th Anniversary Airship Hindenburg

  Cook Islands 2014 – 50$ Mother of Pearl – Nautilus Jules Verne Captain Nemo

  Cook Islands 2015 – 25$ Mother of Pearl – Mississippi Steamboat

  Cook Islands 2016 – 25$ Mother of Pearl – Trans Siberian Railway 100 Anniversary


  Cook Islands 2017 – 25$ Mother of Pearl – Invention of the Bicycle 200 Anniversary