The "Virgin Of Vladimir Theotokos" is a fifth coin from PREMIUM EDITION of beautiful series Masterpieces of Art.
A numismatic masterpiece, made of 3 oz / 93,3 grams of pure silver and 1/4 oz / 7,778 grams of pure gold with 26 pcs authentic swarovski crystals inlaid in this 55 mm coin, issued by Cook Islands.
    Contains 3 oz / 93,3 grams of .999 fine Silver.

    Contains 1/4 oz / 7,778 grams of .999 fine Gold.

    Coin embellished with 26 Swarovski crystals

    Coin comes in a special black box with a numbered COA.

    Strict limited mintage of only 999 coins.

    Obverse: Effigy of Queen Elizabeth II, "Cook Islands", and the legal tender value of 20 Dollars.

    Reverse: A very high quality rendition of The Virgin Of Vladimir Theotokos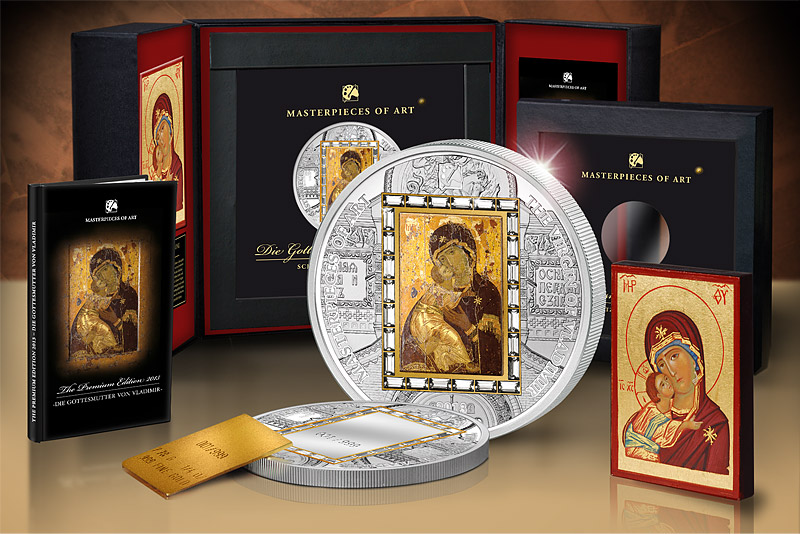 .
                                             In the series of Masterpieces of Art PREMIUM EDITION  you can find:
.

  2009 Mona Lisa – Leonardo da Vinci

  2010 Vitruvian Man – Leonardo da Vinci

  2011 The Golden Portrait Mask of Tutankhamun 

  2012 The Bust of Nefertiti

  2013 The Virgin of Vladimir

  2014 Pieta – Michelangelo

  2015 The Golden Throne of Tutankhamun   
     .
.
  History:
The Theotokos of Vladimir (Greek: Θεοτόκος του Βλαντιμίρ), also known as Our Lady of Vladimir, Vladimir Mother of God, or Virgin of Vladimir (Russian: Владимирская Икона Божией Матери) is a medieval Byzantine icon of the Virgin and Child that has been in Russia since soon after it was painted. It is one of the most venerated Orthodox icons and a fine and early example of the iconography of the Eleusa type. The Theotokos (Greek for Virgin Mary, literally meaning "Birth-Giver of God") is regarded as the holy protectress of Russia. The icon is displayed in the Tretyakov Gallery, Moscow in a former church in the grounds of the museum. Her feast day is June 23rd o.s. / July 6th n.s. Even more than most famous icons, the original has been copied repeatedly for centuries, and many copies have considerable artistic and religious significance of their own.The icon is a version of the Eleusa (tenderness) type, with the Christ child snuggling up to his mother's cheek.
Unlike some icons with a special following in religious terms the high artistic quality of the work is universally agreed, and the Vladimirskaya, as Russians call it, is generally accepted as the finest of the few Byzantine icons surviving from its period, and according to the art historian David Talbot Rice "is admitted by all who have seen it to be one of the most outstanding religious paintings of the world".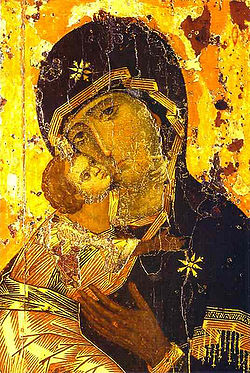 Painted about 1130 in Constantinople