This coin is a continuation beautiful series of the Masterpieces of Art.
A numismatic masterpiece, made of 3 oz / 93,3 grams of pure silver 999 with authentic swarovski crystals inlaid in this 55 mm coin, issued by Cook Islands.
    Contains 3 oz / 93,3 grams of .999 fine Silver.

    Coin embellished with 16 Swarovski crystals

    Coin comes in a beautiful black box with a COA.

    Strict limited mintage of only 1897 coins.

    Obverse: Effigy of Queen Elizabeth II, "Cook Islands", and the legal tender value of 20 Dollars.

    Reverse: A very high quality rendition of The Sleeping Bather – Pierre-Auguste Renoir

 
.
History: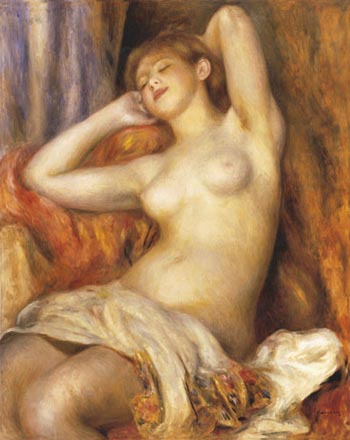 The Sleeping Bather – Pierre-Auguste Renoir
Year 1897

Pierre-Auguste Renoir was the son of a tailor, whose father moved to Paris in 1845. At age 13 Renoir was sent to work as an apprentice to a painter in a chinaware factory. It was there he learned to imitate some of the great painters of the 18th century.
When he was 21 he became a member of the studio of M.G.C. Gleyre, and became friendly with contemporary artists of the time, including Claude Monet, Alfred Sisley and Jean Bazille.
Renoir's early works were not well received, as the Impressionist Movement's revolutionary approach to art had not yet become generally accepted. Renoir adopted a very distinctive style using rich colors and delicate brush strokes. Renoir's paintings generally depict people as opposed to nature and landscape.
During the last 20 years of his life Renoir was crippled by arthritis and although he was unable to move his hands freely, he continued to paint, by strapping a brush to his arm.