The "Bust of Nefertiti" is a fourth coin from PREMIUM EDITION of beautiful series Masterpieces of Art.
A numismatic masterpiece, made of 3 oz / 93,3 grams of pure silver and 1/4 oz / 7,778 grams of pure gold with 26 pcs authentic swarovski crystals inlaid in this 55 mm coin, issued by Cook Islands.
    Contains 3 oz / 93,3 grams of .999 fine Silver.

    Contains 1/4 oz / 7,778 grams of .999 fine Gold.

    Coin embellished with 26 Swarovski crystals

    Coin comes in a special black box with a numbered COA.

    Strict limited mintage of only 999 coins.

    Obverse: Effigy of Queen Elizabeth II, "Cook Islands", and the legal tender value of 20 Dollars.

    Reverse: A very high quality rendition of The Bust of Nefertiti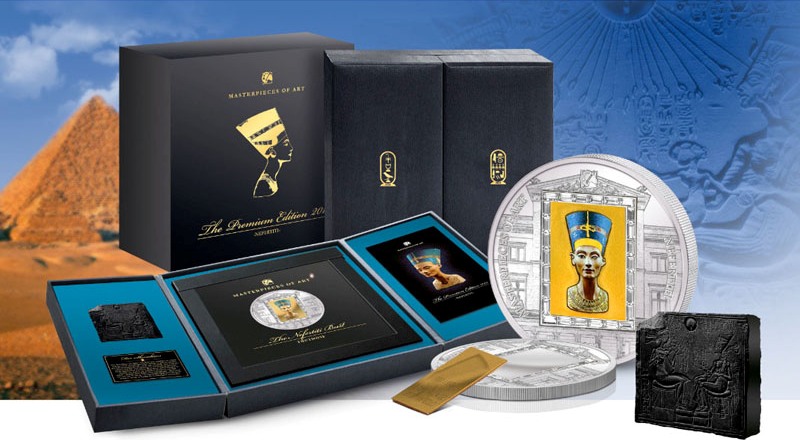 .
                                             In the series of Masterpieces of Art PREMIUM EDITION  you can find:
.

  2009 Mona Lisa – Leonardo da Vinci

  2010 Vitruvian Man – Leonardo da Vinci

  2011 The Golden Portrait Mask of Tutankhamun 

  2012 The Bust of Nefertiti

  2013 The Virgin of Vladimir

  2014 Pieta – Michelangelo

  2015 The Golden Throne of Tutankhamun   
     .
.
  History:
Neferneferuaten Nefertiti  (ca. 1370 – ca. 1330 BC) was an Egyptian queen and the Great Royal Wife (chief consort) of Akhenaten, an Egyptian Pharaoh. Nefertiti and her husband were known for a religious revolution, in which they worshiped one god only, Aten, or the sun disc. Akhenaten and Nefertiti were responsible for the creation of a whole new religion which changed the ways of religion within Egypt. With her husband, she reigned at what was arguably the wealthiest period of Ancient Egyptian history. Some scholars believe that Nefertiti ruled briefly as Neferneferuaten after her husband's death and before the accession of Tutankhamun, although this identification is a matter of ongoing debate.
Nefertiti had many titles including Hereditary Princess (iryt-p`t); Great of Praises (wrt-hzwt); Lady of Grace (nbt-im3t), Sweet of Love (bnrt-mrwt); Lady of The Two Lands (nbt-t3wy); Main King's Wife, his beloved (hmt-niswt-'3t meryt.f); Great King's Wife, his beloved (hmt-niswt-wrt meryt.f), Lady of all Women (hnwt-hmwt-nbwt); and Mistress of Upper and Lower Egypt (hnwt-Shm'w-mhw).
She was made famous by her bust, now in Berlin's Neues Museum, shown to the right. The bust is one of the most copied works of ancient Egypt. It was attributed to the sculptor Thutmose, and it was found in his workshop. The bust is notable for exemplifying the understanding Ancient Egyptians had regarding realistic facial proportions.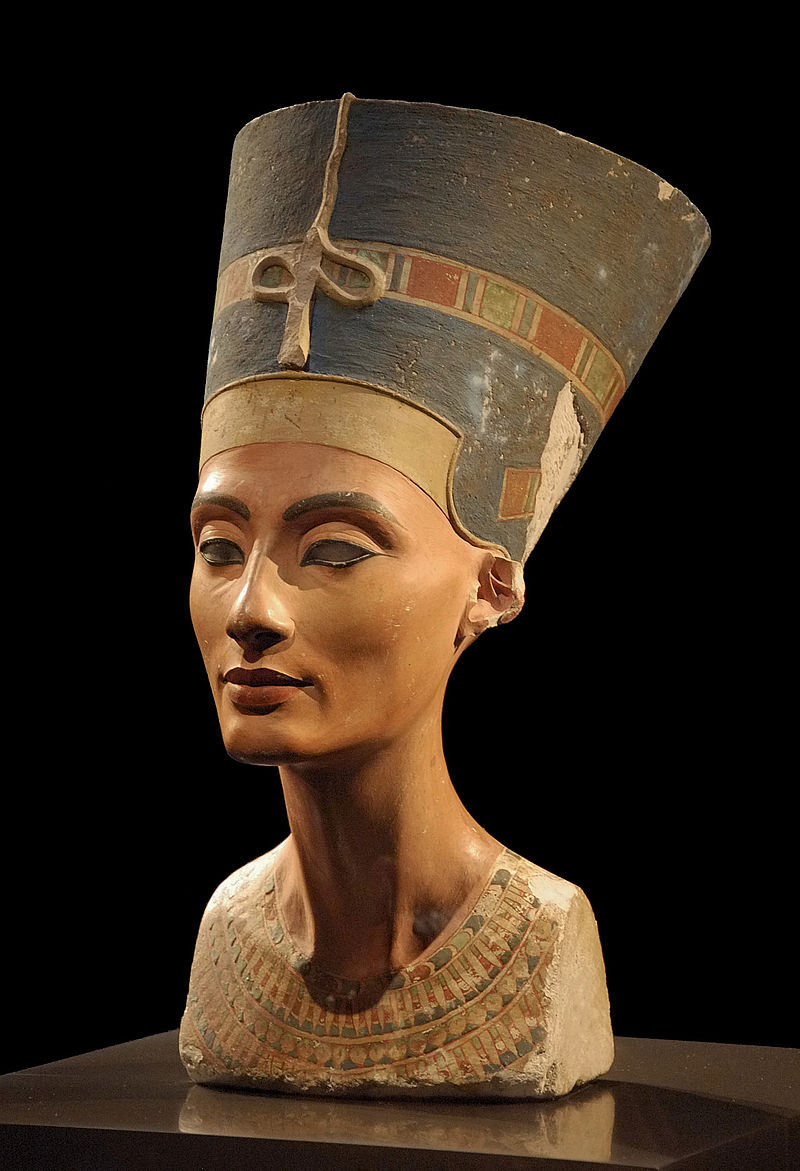 ca. 1370 – ca. 1330 BC  (18th Dynasty)
.
.