The "Vitruvian Man" is a second coin from PREMIUM EDITION of beautiful series Masterpieces of Art. 
A numismatic masterpiece, made of 3 oz / 93,3 grams of pure silver and 1/4 oz / 7,778 grams of pure gold with 26 pcs authentic swarovski crystals inlaid in this 55 mm coin, issued by Cook Islands.
    Contains 3 oz / 93,3 grams of .999 fine Silver.

    Contains 1/4 oz / 7,778 grams of .999 fine Gold.

    Coin embellished with 26 Swarovski crystals

    Coin comes in a special black box with a numbered COA.

    Strict limited mintage of only 999 coins.

    Obverse: Effigy of Queen Elizabeth II, "Cook Islands", and the legal tender value of 20 Dollars.

    Reverse: A very high quality rendition of The Vitruvian Man – Leonardo Da Vinci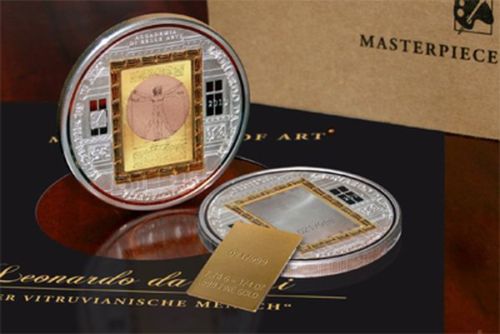 .
                                             In the series of Masterpieces of Art PREMIUM EDITION  you can find:
.

  2009 Mona Lisa – Leonardo da Vinci

  2010 Vitruvian Man – Leonardo da Vinci

  2011 The Golden Portrait Mask of Tutankhamun 

  2012 The Bust of Nefertiti

  2013 The Virgin of Vladimir

  2014 Pieta – Michelangelo

  2015 The Golden Throne of Tutankhamun   
     .
.
  History:
This sketch, and the notes that go with it, show how Leonardo understood the proportions of the human body. Each separate part was a simple fraction of the whole. For example, the head measured from the forehead to the chin was exactly one tenth of the total height, and the outstretched arms were always as wide as the body was tall.
These ideas were not Leonardo's, but were taken from the writings of the Roman architect Vitruvius. Both men believed that the same principles should be used when designing buildings.
However, Leonardo tried to take these ideas further, and spent much of his life searching for connections between the structure of the human body, and other patterns in nature. Elsewhere in his notes, he proclaimed that "Man is the model of the world."
Vitruvian man may also give us an insight into another problem that occupied Leonardo for much of his life; that of 'squaring the circle'. This involves drawing a circle and square that have the same area without measuring. Some argue that this diagram shows that Leonardo had a sophisticated understanding of the problem, which other mathematicians would not develop until much later.
.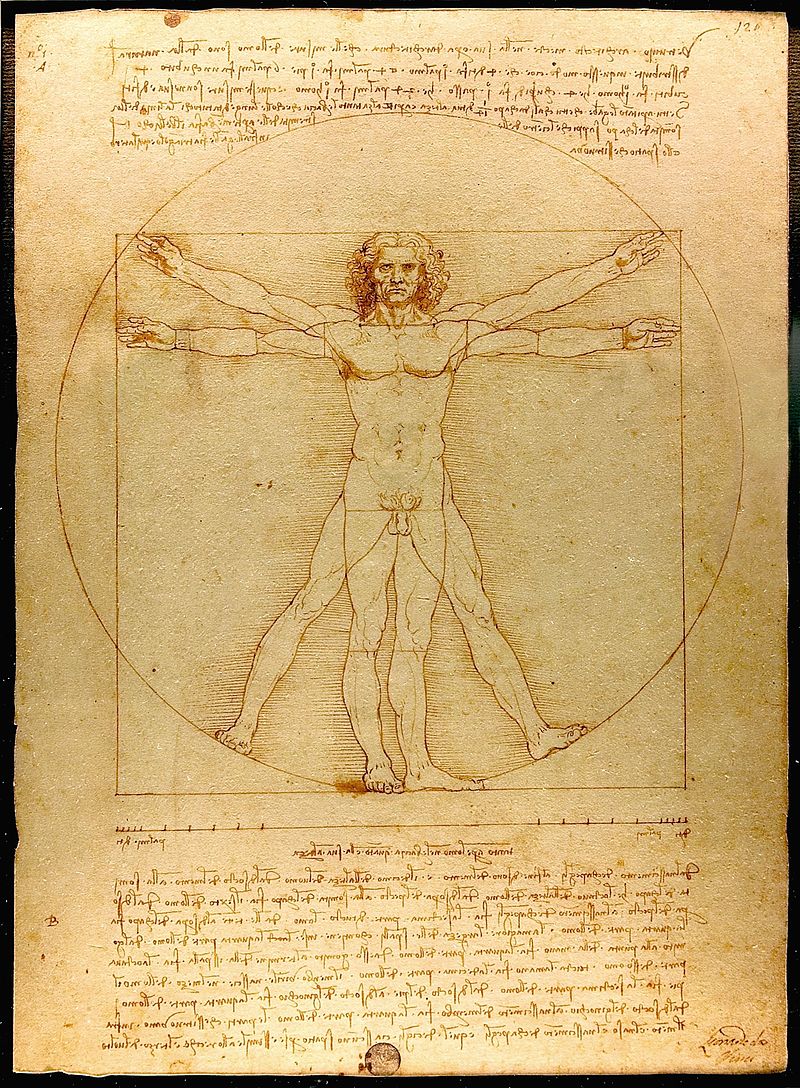 .
The Vitruvian Man – Leonardo Da Vinci
Year 1490
Leonardo da Vinci (1452-1519) is the archetype of the Renaissance Man. During his life he did it all: architect, painter, sculptor, musician, draftsman, engineer, geometer, inventor, anatomist, physiologist, botanist and scientist. In short, he was a true genius.
Leonardo is justly famous for his realistic paintings, such as the Mona Lisa, the Madonna of the Rocks, and the Last Supper, as well as for influential drawings such as the Vitruvian Man.