According to the Haida people, who for centuries inhabited the territories of today's American-Canadian borderland, knowledge is a power to be cherished and passed on to future generations. Equally important is the connection between all living organisms (not just humans). It is these traditional values held by Canada's indigenous people that inspired the creation of another beautiful coin, which is available at Coins from World.
Celebrating Canadian diversity – for the fourth time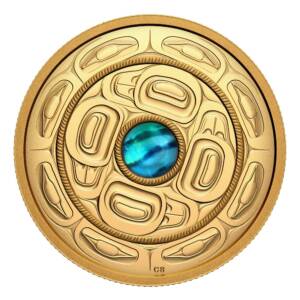 The fourth coin in the "Celebrating Canada's Diversity" series was issued in January 2023 and immediately generated considerable excitement among collectors. This is only natural, since the issue comprises only 275 pieces, and the design and workmanship deserve recognition (although the Royal Canadian Mint never goes below a very high level!).
1 ounce of gold was used to strike the coin with a symbolic and beautiful reverse. Its main motif is an engraving of a cedar line that connects generations. A beautiful addition is an ocean-colored shell that alludes to the heritage of the Haida people. The numismat's designer is Yahl 'Aadas Cari Savard, and the Royal Canadian Mint's engravers are responsible for the craftsmanship.
Special features of the coin:
Gold coin decorated with a shell

Coin inspired by the Haida people

Fourth installment of the Celebrating Canada's Diversity series

Strictly limited series – only 275 copies worldwide

99.99% – excellent purity of the gold used to strike the coin