The Peace Dollar is a unique tribute to a value that has guided Canadians for many years, as evidenced by their commitment to the creation and continued support of UN peacekeeping forces operating around the world. As usual, Royal Canadian Mint proves to be a mint that honors each of its issues with attractive design and unparalleled workmanship.
Peace dollar – 5 ounces and UHR!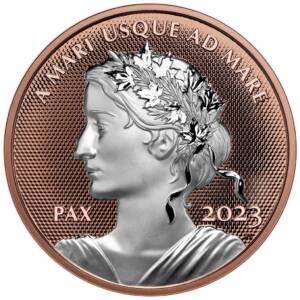 After issuing a 1-ounce Peace Dollar in 2023, the Royal Canadian Mint is going a step further and launching as much as a 5-ounce variant, whose mintage was immediately limited to 1,250 pieces worldwide. One of the pieces can be yours thanks to online numismatic store Coins From World.
The peace motif on the reverse has been highlighted in two different ways; it's both Ultra High Relief (UHR) and rose gold plating, with a shiny and reflective effect.
The Royal Canadian Mint's certification leaves no doubt – a coin of pure bullion, struck in a modern way, respecting the best engraving traditions, and beyond all that, in a limited series, has been released to the market.
Special features of the coin:
Return of the Canadian Peace Dollar

Version with exactly 5 ounces of pure silver

Gorgeous Ultra High Relief with masterful precision

Beautiful rose gold decoration

Limited edition – 1,250 pieces in the 2023 issue