Romantic and platonic love. Love of lovers, spouses, parents, friends. Love for the environment and self-love – there are different kinds of love, but each deserves respect. It is love in every issue that the new coin from the Royal Canadian Mint, scheduled for release in January 2023, is dedicated to. Thanks to Coins from World, you can purchase the coin before it disappears from the primary market for good!
Let's celebrate love!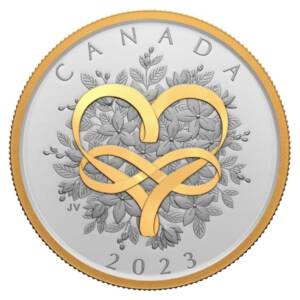 Each coin in the series is made from 1 ounce (31.39 g) of 99.99% pure silver. To enhance the beauty of Jori van der Linde's design, a gold finish was applied. The mintage has been planned for 10000 pieces worldwide. One of the copies can be yours. This is a Royal Canadian Mint creation, so be sure to hurry.
This beautiful numismatic tribute to love in all its forms is the inspiration for a precious and timeless gift. Material, collectible and symbolic value intertwine in the form of a sterling silver numismatic tribute to love, which is perfect for all love-related occasions. Mother's Day, Valentine's Day, nuptials, engagements, wedding anniversaries… there are many days when the 2023 Celebrate Love coin works well as a gift.
Special features of the coin:
A coin inspired by every kind of love

More than 31 grams of pure silver in the coin

Plated in yellow gold

Unique design by Jori van der Linde

Only 10000 copies in the world