It will be a while from birth to taking the first steps, but in the flurry of responsibilities around a child it seems like the blink of an eye. Every toddler is unique, just as the ephemeral footprints imprinted in the sand of any beach are unique. What is replicable is the quality and value of Canadian collectible coins – and the Baby Gift Welcome to the World issue is now an annual tradition….
Welcome to the World!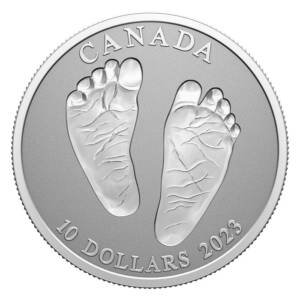 Looking for a gift to celebrate the birth of a baby, a christening, a first visit? For years, the Royal Canadian Mint has been minting special silver numismats to symbolize the birth of the year. This is no different in 2023. Due to the huge interest worldwide, the famous mint has decided to increase the mintage – from the previous 20,000 to as many as 25,000 copies. This makes it easier to realize the idea of a valuable gift for life.
The first collector coin of a person born in 2023 can be given by you. Half an ounce of pure silver, attention to the smallest details, symbolism… there are many arguments to order just this Royal Canadian Mint numismatic in celebration of the 2023 birth.
Special features of the coin:
2023 birth celebration coin

Increased collection – 25,000 coins worldwide

A well-known and respected motif for years on offer from the mint

½ ounce of silver – bullion of 99.99% purity

An idea for a valuable, elegant and timeless gift