This is the third and final coin in the EHR series referring to wildlife. The engravers at Royal Canadian Mint decided to crown the collection by issuing a coin with the likeness of a wolf. The wild, yet subdued and majestic animal is widely recognized as the king of the forest, and his proud posture was perfectly rendered on the reverse of this collectible gold coin.
The lord of the forest on the gold coin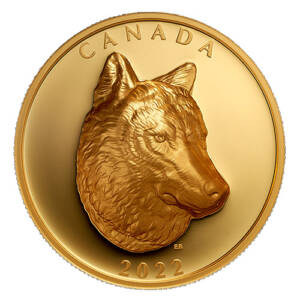 The reverse design has been executed with perfection, and the artwork reproduced on it will delight even the most discerning collectors. Remember that the mintage is limited to 275 pieces, so it's worth hurrying to order this copy. Artist Eric Boyer has designed a portrait of a wolf that commands attention with its realism and the multitude of details included. The high relief makes it seem as if the animal is emerging from the coin's surface when viewed from the right angle. The workmanship of 99.99% pure completes the numismatic value.
Just above the wolf's head, the inscription "Canada" is visible, while the date of issue is located on the lower part of the reverse. The visible letters "EB" are the initials of the artist responsible for the design. When you turn the gold collector coin inside out, your eyes will see the likeness of Queen Elizabeth II presented against an ornate background. This remarkable collection includes two other coins, which present an eagle and a buffalo. Maybe you can get them all?
Special features of the gold coin:
The coin is sold in an elegant box with a cosmetic case

Design by artist Eric Boyer

Mirror stamp

Relief over 6 mm high

Certified by the Royal Canadian Mint